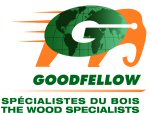 DELSON, QUEBEC -- (Marketwire) -- 12/12/12 -- The Annual Meeting of Shareholders of Goodfellow Inc. (TSX: GDL) will be held this year at:


Goodfellow's Head Office 225 Goodfellow Street Delson, Quebec J5B 1V5 Wednesday, December 19, 2012 at 10:00 a.m.
For road map instructions, please consult our web site at
www.goodfellowinc.com
for more details. A visit of our installations will be possible after the meeting.
WE LOOK FORWARD TO SEEING YOU THERE.
Goodfellow Inc. is one of Eastern Canada's largest independent re-manufacturers and distributors of lumber and hardwood flooring products. Goodfellow shares trade on the Toronto Stock Exchange under the symbol GDL.


Contacts:
Goodfellow Inc.
Richard Goodfellow
President and CEO
450-635-6511
450-635-3730 (FAX)
info@goodfellowinc.com
www.goodfellowinc.com