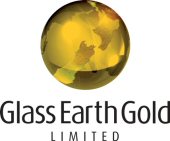 WELLINGTON, NEW ZEALAND -- (Marketwire) -- 12/12/12 -- Glass Earth Gold Limited (TSX VENTURE: GEL)(NZAX: GEL) ("Glass Earth" or the "Company") announced today that it will make an application with the TSX Venture Exchange to extend the terms of a total of 8,211,482 warrants (the 'Warrants") by approximately one year.

The Warrants were issued with original terms of two and three years in connection with the closing of three private placement financings as announced by the Company on February 24, 2010, December 28, 2010 and January 18, 2011. The current expiry dates of the Warrants are:-


Warrants outstanding Expiry Date----------------------------------------------------------------------------4,983,149 December 23, 20121,484,000 December 29, 20121,602,500 January 6, 2013141,833 January 14, 2013--------------------------8,211,482----------------------------------------------------
The Company will apply to have these warrants extended to a common expiry date of December 31, 2013.
All other terms of the Warrants, including the exercise price of 50 cents, remain unchanged.
About Glass Earth Gold Limited
Glass Earth is one of the largest New Zealand-based gold exploration companies exploring a large land position in the North and South Islands.
In the North Island, exploration efforts are focused on large epithermal gold systems in the Hauraki/Central Volcanic Region. This Region is host to the Martha Gold Mine, (Newmont Mining).
Hauraki Region - Glass Earth occupies a significant ground position around Newmont's currently active Waihi gold operations; The Newmont-Glass Earth Waihi West JV (Newmont earning 60%) and Hauraki JV (North and Central Areas - 65/35) are currently being explored and managed by Newmont in collaboration with Glass Earth Gold. Glass Earth Gold also intends to progress activities at the newly announced Neavesville prospect.
Glass Earth Gold has also defined several significant epithermal gold targets to independently explore in this region, including the Muirs Reef Gold project.
In the South Island, exploration efforts are focused on the Otago Region for mesothermal "Macraes-style" gold targets and placer/alluvial gold.
For more information on Glass Earth Gold, please visit
www.glassearthgold.com
.
To receive Company news via email, contact
erica@chfir.com
and mention "Glass Earth news" in the subject line.
Neither the TSX Venture Exchange nor its Regulation Services Provider (as that term is defined in the policies of the TSX Venture Exchange) nor New Zealand Exchange Limited has reviewed this release and neither accepts responsibility for the adequacy or accuracy of this release.


Contacts:
Glass Earth Gold Limited
Simon Henderson
President and Chief Executive Officer
+64 4 903 4980
info@glassearthgold.com
www.glassearthgold.com

CHF Investor Relations
Jeanny So
Director of Operations
+1 416 868 1079 x 225
jeanny@chfir.com