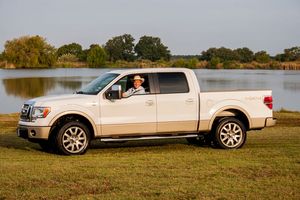 SCOTTSDALE, AZ -- (Marketwire) -- 12/12/12 -- Barrett-Jackson, the World's Greatest Collector Car Auctions™, announced today that it will auction off a 2009 Ford F-150 King Ranch 4x4 SuperCrew owned by President George W. Bush at its Scottsdale auction on January 19, 2013. The pick-up will cross the block at approximately 9:30 pm at the conclusion of the Salon/5000 Series segment. All proceeds from the sale of the vehicle will benefit the Fisher House Foundation, a national program dedicated to assisting America's military families.

President Bush has used this stunning white F-150 at his Prairie Chapel Ranch in Crawford, Texas, since shortly after he left the White House in 2009. With a 5.4-Liter V8 engine commanding 310 horsepower, this impressive truck has a luxurious adobe King Ranch premium leather interior and 11,200lbs towing capacity. President Bush and former First Lady Laura Bush have since used the truck to work around their ranch; entertain friends, family, and dignitaries and to give tours of their Crawford property.

"The Fisher House Foundation is an outstanding organization, and we are honored to support their efforts and are thankful to former President Bush for his donation," said Craig Jackson, chairman and CEO of Barrett-Jackson. "Charitable giving is a part of Barrett-Jackson's culture and philosophy and I can't wait to see what happens once this truck crosses the auction block."

The Barrett-Jackson auction in Scottsdale represents a unique opportunity to own a piece of presidential automotive history. The truck on the block has been owned continuously by President Bush since he ordered it new from Jim Click Ford in Tucson, Ariz. The title is in the former President's name and will be transferred directly to the buyer. Additionally, the right airbag panel features President Bush's signature and a copy of a video showing him autographing the truck and driving it around his ranch in Crawford, Texas will be included with the purchase.

"With the help of former President Bush and the Fisher House Foundation, Barrett-Jackson is excited to be a part of this incredible sale," said Steve Davis, president of Barrett-Jackson. "Driven by a President and now benefiting veterans, this truck is an exceptional piece of Americana that would make any collector proud."

Barrett-Jackson first sold vehicles benefitting the Fisher House Foundation in 2007, selling a CNN Hummer for $1.25 million and, most recently, Jay Leno's New Holland Tractor (signed by President Bush) for $535,000 at the 2012 Scottsdale auction. A total of approximately $1.7 million in funds have been raised for the foundation through Barrett-Jackson auctions.

The auction of the 2009 Ford F-150 King Ranch 4x4 SuperCrew from former President Bush was facilitated by the Gordon D. Sondland and Katherine J. Durant Foundation and all proceeds from the sale will go directly to the Fisher House Foundation, with the consignment fees waived. The Sondland/Durant Foundation was established in 1993 with a mission statement of "helping families and boosting communities." The Foundation has contributed millions of dollars since then toward children's education, the arts, medical assistance for families and of course, support for wounded warriors and their families.