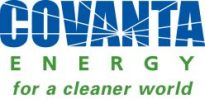 MORRISTOWN, NJ -- (Marketwire) -- 12/12/12 -- Covanta Energy Corporation, a world leader in sustainable waste management and renewable energy, is pleased to announce that its Covanta Field Services (CFS) South team has earned STAR status in the Occupational Safety and Health Administration's Voluntary Protection Program (OSHA VPP).

Covanta Field Services teams travel to Covanta's Energy-from-Waste facilities to perform maintenance activities, typically during scheduled boiler outages. CFS work is primarily focused on keeping Covanta's boilers functioning at optimal levels so that high levels of boiler availability can be achieved. CFS also oversees electrical work and the maintenance of turbine generators and facility cranes.

VPP STAR status is the highest honor awarded to work teams with comprehensive, successful safety and health management systems. Teams such as CFS South are committed to effective employee protection beyond the requirements of federal standards and participants develop and implement systems to effectively identify, evaluate, prevent, and control occupational hazards to prevent injuries and illnesses.

"VPP STAR status is an outstanding accomplishment for the CFS South team -- a dedicated and talented team of professionals which Covanta relies on to provide reliable and superior service to our clients," said Seth Myones, Covanta Energy chief operating officer. "The nature of their work demands a culture of safety and continuous improvement. Their steadfast commitment to a safety culture has led to a tremendous record and this well-deserved honor."

The keys to health and safety success under VPP are employee engagement and ongoing involvement in on-site health and safety program development combined with long term commitment and support from management. VPP STAR recipients routinely incur injury and illness rates that are at or below the state average for their specific industry.

Continuous improvement of health and safety programs is central to Covanta's corporate and workplace cultures and has led to a majority of Covanta's North American facilities earning the prestigious VPP STAR status. For more information, please visit http://www.covantaenergy.com/facilities/health-safety.aspx.

About Covanta
Covanta Energy Corporation is an internationally recognized owner and operator of Energy-from-Waste and renewable energy projects and a recipient of the Energy Innovator Award from the U.S. Department of Energy's Office of Energy Efficiency and Renewable Energy. Covanta's 44 Energy-from-Waste facilities provide communities with an environmentally sound solution to their solid waste disposal needs by using that municipal solid waste to generate clean, renewable energy. Annually, Covanta's modern Energy-from-Waste facilities safely and securely convert approximately 20 million tons of waste into 9 million megawatt hours of clean renewable electricity and approximately 9 billion pounds of steam that are sold to a variety of industries. For more information, visit www.covantaenergy.com.