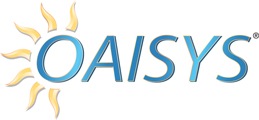 TEMPE, AZ -- (Marketwire) -- 12/11/12 -- OAISYS®, a leader in business voice documentation and contact center management solutions, today announced a partnership with Symmetrics Business Intelligence, a leading provider of reporting and analysis solutions for contact centers. The OAISYS Talkument® and Tracer solutions combine with Symmetrics' nVISION Contact Center Reporting & Analysis Suite to leverage collected quality monitoring data for custom reporting and analytics purposes, offering organizations better insight into contact center operations and call-handling performance.

"At OAISYS, we are committed to continually and rapidly advancing our products while also remaining focused on delivering the utmost solution practicality and flexibility, and this integration partnership is well-aligned with those principles," said Brian Spencer, president of OAISYS. "The pairing of OAISYS voice compliance and quality monitoring software with Symmetrics' best-of-breed reporting and business intelligence technologies enables our customers to better identify interaction trends and proactively address areas for contact center process improvement."

"The integration of Symmetrics' nVISION Suite with the OAISYS solutions delivers tremendous value to contact centers," said Richard McElroy, president and chief operating officer of Symmetrics. "OAISYS customers can now benefit from customizable reporting and analysis functionality to help drive continuous, informed and proactive improvements that maximize contact center efficiency and enhance the customer experience."

The Talkument solution is purpose-built to address voice compliance requirements, employing patented OAISYS Portable Voice Document (PVD™) technology to automatically and transparently record targeted conversations along with all available descriptive data from external systems such as telecom networks, business applications and user interaction. Users can highlight portions of voice conversations, add text notes and securely share an entire file or only highlighted segments. Tightly integrated speech search capabilities enable rapid identification of voice files based on spoken phrase in addition to descriptive data.

The Tracer application layers on top of Talkument to provide formal contact center quality management capabilities, including live call monitoring, coaching, evaluations, reporting and desktop video monitoring. The combination of Tracer's feature suite with underlying Talkument voice documentation functionality delivers the only true contact center quality monitoring solution to also effectively and affordably resolve legal, industry and service-level compliance management requirements.