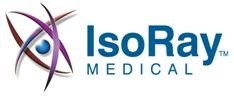 RICHLAND, WA -- (Marketwire) -- 12/11/12 -- IsoRay Inc. (NYSE MKT: ISR), a medical technology company and innovator in seed brachytherapy and medical radioisotope applications, today announced the presentation of clinical findings at two medical centers of the successful treatment of brain cancers and tumors using IsoRay's patented Cesium-131 (Cs-131) sutured seeds and seed sutured mesh for internal radiation therapy.

Dr. Theodore H. Schwartz and Dr. Gabriella Wernicke, both of Weill Cornell Medical Center, presented their findings during an oral presentation and luncheon lecture for the membership of The Society of Neuro-Oncology (SNO), titled "The study of Neurosurgical Resection and Intra-operative Cesium-131 Radio-isotope Brachytherapy in Patients with newly Diagnosed Brain Metastases," available at http://www.isoray.com/assets/Updated_SNO_Poster.pdf. In the study, which showed Cesium-131's relative effectiveness in treating these tumors compared to other common treatments, the seeded sutures were placed within the resected tumor bed at the time of surgery to provide immediate radiation therapy to it and to a margin depth of 5 mm which is dosed to prevent tumor reoccurrence.

A metastatic, or secondary, brain tumor is one that begins as cancer in another part of the body. Some of the cancer cells may be carried to the brain by the blood or lymphatic fluid, or may spread from adjacent tissue. Metastatic brain tumors are often referred to as lesions or brain metastases. Metastatic brain tumors are the most common brain tumors.

In another presentation for the membership of SNO, Dr. David G. Brachman, Medical Director of Radiation Oncology at St. Joseph's Hospital & Medical Center, Barrow Neurological Institute in Phoenix, Arizona, presented his early experience utilizing Cesium-131 brachytherapy seed sutured mesh implant for treating recurring meningioma tumor. A copy of the presentation is available at http://www.isoray.com/assets/AOS_BrainBrachytherapy_Poster.pdf.

Meningiomas are an assorted set of tumors that develop in membranous layers surrounding the central nervous system. According to the American Brain Tumor Association, meningiomas are the most common primary brain tumor and represent one-third of all brain tumors. These fast growing tumors often reoccur. They cause pressure on the brain, destroying brain cells and causing a variety of health and quality of life problems for the stricken patient. There are both benign and malignant meningioma tumors.

Typically, meningiomas require multiple treatments with external beam radiation following surgery. Treatment in this manner represents great complexity and difficulty. Because tumors are often large and irregular in shape, delivering a precise dose of radiation is problematic.

In Dr. Brachman's study, the sutured mesh was placed over the resected tumor at the time of surgery to provide immediate radiation therapy to the entire tumor bed and margins, which is aimed at preventing tumor reoccurrence. In addition to noting the initial success of this treatment, Dr. Brachman also pointed to Cesium-131's distinctive abilities. "Cesium-131 provides a unique biological advantage regarding the timing of radiation, being utilized at the time of the surgery before tumor cells can repopulate, which helps to maximize the therapeutic benefit of radiation treatment," he explained.