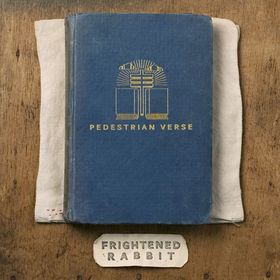 'PEDESTRIAN VERSE' artwork



NEW YORK, NY -- (Marketwire) -- 12/11/12 -- To celebrate the upcoming release of their highly anticipated new album "PEDESTRIAN VERSE," Canvasback/Atlantic recording group Frightened Rabbit has unveiled details of their headlining North American Spring tour. The acclaimed Scottish rock band will begin its cross-country trek on March 8th at Seattle's Showbox at the Market and continue through April. Presale tickets for all dates will be available this Wednesday, December 12th with public on-sale Friday, December 14th. For further details, visit http://frightenedrabbit.com/shows.

Just today, the band revealed a new video for their song "The Woodpile." Watch the Hand Held Cine Club-directed video here: http://youtu.be/KY4j8Ow-CTs. The track, which was played for the first time this evening by Zane Lowe on BBC's Radio 1, is featured on "PEDESTRIAN VERSE," Frightened Rabbit's fourth studio album. Set to be released February 5th in the U.S., the collection was recorded at the famed Monnow Valley Studio in Rockfield, South Wales with producer Leo Abrahams (Brian Eno, David Byrne, Grace Jones) and mixed by Craig Silvey (Arcade Fire).

Commenting on the new album, singer Scott Hutchison says, "The title is taken from a lyric in 'State Hospital.' I felt it was a nicely faceted title, with enough layered meaning to remain open to interpretation. Above all though, it was a gauntlet I threw down for myself. If you call your album 'Pedestrian Verse,' you can't settle for any old lyric. It forced me to better myself. In fact, I think we all stepped up on this album and I believe that our producer Leo Abrahams had a major role in that step. He threw our music into areas we had not previously imagined. More than any other record we've done this has been a genuine journey of discovery into new ways of working in order to develop and fully realize each of the songs. As a result, I think 'Pedestrian Verse' is the strongest and most interesting record we've made to date."

During the recording sessions of "PEDESTRIAN VERSE," the Glasgow-based band took a break to fulfill a lifelong dream of performing in their home country's historic Highlands. The trek -- which saw gigs in such far-flung locales as Ullapool, Stornoway, and the Isle of Mull -- was captured by fraternal filmmakers Hand Held Cine Club (David Lynch, Band of Skulls) and unveiled as a short film. IFC.com, which premiered the short film last month, called the piece a "gorgeous film, with verse as powerful as the Highlands are in their vista, looming over the little Scottish town where [Hutchison] sang it." Watch "Here" -- The Highlands Film: http://y2u.be/gv76A7zcmu8.