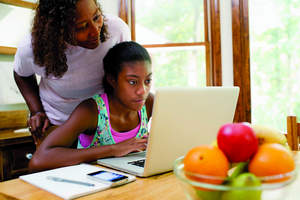 Photo courtesy of Getty Images


MISSION, KS -- (Marketwire) -- 11/08/12 -- (Family Features) A new study of the American family's "passion points" from Just Kids, Inc. reveals that most families (45 percent) agree schools and education are their top priority. Yet, parent involvement in their children's education is at an all-time low.

According to studies by the National Coalition for Parent Involvement in Education, students whose parents are involved in their education are more likely to:

•Earn higher grades and test scores.•Enroll in higher-level programs.•Pass their classes and be promoted.•Attend school regularly.•Adapt well to school, have better social skills, and even show improved behavior.•Graduate and pursue postsecondary education.

While parental involvement during the elementary school years is fairly strong, it tends to drop off dramatically when those children go on to middle and high school. There are several reasons for this:

•Many parents feel that their children should do their homework alone, or that if parents aren't experts in a subject matter, they shouldn't try to help.•Middle and high schools tend to be bigger than elementary schools, and less personal.•The structure of the school day can also be a problem for parents -- instead of one teacher that parents can contact, students have multiple teachers who don't know them that well.

"Of all the choices we as parents will make in our lifetime, decisions about our children's education are among the most important," says Rose Fernandez, parent advocate and founder of the National Parent Network for Online Learning. "Schools need to do more to get parents involved and parents need to raise the bar on what they expect of their schools, the teachers and themselves."

Fernandez says schools that succeed in engaging families from diverse backgrounds share three key practices:

•Focus on building trusting, collaborative relationships among teachers, families and community members.•Recognize, respect and address families' needs, as well as class and cultural differences.•Embrace a philosophy of partnership where power and responsibility are shared.

"If a school district doesn't establish parental involvement as a priority, if it doesn't define what it means, then parents need to take action," suggests Fernandez.

The ABCs of Parent Involvement
If you want to be more involved in your child's education, but aren't sure how, try implementing these ABCs.

A

Ask - Ask children specific questions about the school day. What projects are they excited about? What did they learn in a particular class? How did they feel? What were the highs and lows of the day? Ask, and then really listen to their answers.

Advise - You can't do homework for them, but you can help them establish a study routine, figure out how to use their time wisely and organize their notes, papers and supplies. Show them how to break large tasks into smaller ones so they won't be overwhelmed. And you can help them figure out how to research and get answers for themselves.