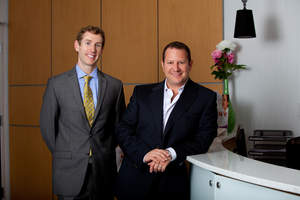 Drs. Neil Zemmel and Matthew Stanwix


RICHMOND, VA -- (Marketwire) -- 11/08/12 -- At their center for reconstructive and aesthetic plastic surgery in Richmond, Dr. Neil Zemmel and Dr. Matthew Stanwix have recently begun offering an advanced microsurgical technique for helping women with breast cancer restore their natural curves and rejuvenate their self-confidence. While traditional breast reconstruction has utilized synthetic implants, which oftentimes require replacement in the future, Drs. Zemmel and Stanwix are now utilizing Deep Inferior Epigastric Perforator (DIEP) surgery to take tissue from one area of a woman's body and then transfer it to the breast in order to sculpt a more natural recreation of what was removed due to cancer. As one of the few private practices to offer the innovative DIEP flap breast reconstruction procedure, Drs. Zemmel and Stanwix say they are excited for an opportunity to improve the lives of women battling breast cancer and honored to help revive their sense of womanhood.

"Because DIEP flap reconstruction was not performed in the Richmond area until recently, women with breast cancer have been at a disadvantage," says Dr. Stanwix. "We feel that all women should know and understand each option prior to their breast reconstruction and be able to choose the treatment that works best for them."

Thanks to recent advancements in microsurgery, Drs. Zemmel and Stanwix say surgeons have been able to produce better results with less complications, higher-quality outcomes, and lower morbidity. The Richmond plastic surgeons say because the DIEP flap only takes skin and fat, not muscle tissue, from the abdomen, patients experience less weakness in that area. Dr. Stanwix also says the procedure provides better blood flow and less fat hardening than other microsurgery techniques such as TRAM reconstruction, so patients can enjoy a softer, more supple breast.

Generally considered one of the most complex techniques for performing breast reconstruction, Dr. Zemmel and Dr. Stanwix say the DIEP flap procedure is performed predominantly at large academic centers; however, after having gained extensive experience at Johns Hopkins Hospital, Dr. Stanwix has been able to bring the treatment to St. Francis Hospital in Richmond. They say the difficulty and intricacies of microsurgery demand rigorous training, since many of the sutures and blood vessels involved in the procedure are smaller than a human hair. Drs. Zemmel and Stanwix say despite the complexity of the DIEP flap reconstruction, the reward is well worth the effort.