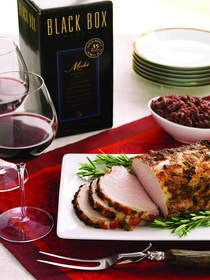 Herb-Roasted Pork Loin with Red Onion Marmalade


MISSION, KS -- (Marketwire) -- 11/08/12 -- (Family Features) The holidays are the ideal time to indulge in great food, delicious wine and festive meals with family and friends. Putting great food on the table is a big part of the fun, but finding affordable, quality wines to go with the food is where things get tricky. Here are a few easy tips to help you pick the perfect wine this holiday season:

•Think inside the box - Black Box Wines are great for entertaining: each box holds the equivalent of four 750ml bottles of wine and stays fresh for up to four weeks once opened. Try Black Box Wines Merlot or Chardonnay for delicious, easy drinking wines to have on hand throughout the holidays, or to serve when unexpected guests surprise you. •Light with light, heavy with heavy - Serve light foods with light wines and heavy foods with heavy wines. If you pair light food with heavy wine, or vice versa, the combination won't taste bad, it may just seem out of balance. •Never cook with a wine you wouldn't drink - When you are cooking with wine, use a wine you know you enjoy drinking. If a recipe calls for wine, serve the same wine used in the recipe alongside the finished dish to enhance the flavors. This Herb-Roasted Pork Loin with Red Onion Marmalade is a perfect example and is great for holiday entertaining.

For more information, visit www.blackboxwines.com.



Herb-Roasted Pork Loin with Red Onion MarmaladePairing: Black Box MerlotServes: 10 to 12Pork:1 tablespoon minced fresh rosemary1 tablespoon minced fresh thyme2 teaspoons kosher salt1 teaspoon freshly ground black pepper2 tablespoons whole grain mustard1 3-pound pork loinMarmalade:3 tablespoons butter2 red onions, halved and thinly sliced (about 4 cups total)3/4 cup Black Box Merlot1 1/2 teaspoons reserved pork rub (see recipe instructions) Kosher salt and ground black pepper, to taste
Preheat oven to 450 degrees F.
In small bowl, mix rosemary, thyme, salt, pepper and mustard together until it forms a paste. Reserve 1 1/2 teaspoons for onion marmalade.
Place pork on a rack set on top of a sheet pan.
Rub herb and mustard paste over entire roast. Place in the oven and cook for 15 minutes.
Turn oven down to 350 degrees F, and cook until a thermometer inserted into center of roast reads at least 145 degrees F. It should take about 20 minutes per pound, or an hour total. Remove from oven and let rest for at least 15 minutes.
While roast is cooking, make marmalade. Melt two tablespoons butter in large sauté pan over medium heat until it begins to foam.
Add onions and stir to coat. Lower heat and sauté, stirring occasionally, until onions are completely softened and starting to caramelize, about 30 minutes.
Season to taste with salt and pepper. Add wine, and let cook until liquid has mostly evaporated, another 5 to 10 minutes.
Stir in reserved mustard paste and remaining tablespoon butter, and season to taste if necessary.
Slice pork and serve hot with onion marmalade.
About Family Features Editorial Syndicate

This and other food and lifestyle content can be found at
www.editors.familyfeatures.com
. Family Features is a leading provider of free food and lifestyle content for use in print and online publications. Register with no obligation to access a variety of formatted and unformatted features, accompanying photos, and automatically updating Web content solutions.
Image Available:
http://www2.marketwire.com/mw/frame_mw?attachid=2145913
Add to Digg
Bookmark with del.icio.us
Add to Newsvine


Matthew Barksdale
mbarksdale@familyfeatures.com
1-888-824-3337
http://editors.familyfeatures.com