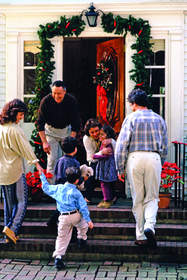 Photo courtesy of Getty Images


MISSION, KS -- (Marketwire) -- 11/08/12 -- (Family Features) For the millions of Americans traveling over the holidays, the details of planning and pulling off a trip can make the season anything but jolly. Fortunately, you can take some of the hassle out of holiday travel by planning -- and shipping -- ahead.

Ship Gifts Ahead
Instead of lugging gifts on an airplane or having gifts take up space in the car, consider shipping them to your destination ahead of time. Here are a few tips to keep in mind before sending your gifts on their way:

•Use the proper materials: a new cardboard box designed for shipping, professional-grade packaging tape, and packaging material such as foam packaging peanuts or bubble cushioning (at least two inches all around).

•Put a label inside of the package, including both the destination and return addresses.

•Use a shipping option that provides a package tracking number.

•Take batteries out of toys, electronics, etc., before shipping, and wrap them separately inside the package.

•Seal home-made holiday treats in an airtight container or plastic bag before packing them in a shipping box. Use an expedited air service, such as UPS Next Day Air.



If you don't have the time or proper packaging supplies, or just need some help preparing gifts for shipment, you can take them to certified packing experts at The UPS Store and take advantage of their Pack & Ship Guarantee.

You can avoid long lines at the post office -- The UPS Store has extended hours during the holidays and also offers USPS services.

Key Dates for Holiday Shipping

•Mondays are typically the busiest shipping days. •The busiest week of the 2012 season is expected to be December 17 to 21. •Most UPS Ground packages require five days or less to reach their destination, but if you're shipping coast-to-coast, it may take longer. •If you are shipping internationally, contact The UPS Store location nearest you to determine the best date to ensure on-time delivery. •The U.S. Postal Service says packages to troops in Iraq and Afghanistan should be mailed by Dec. 1 in order to arrive in time for Christmas; mail going to other military overseas APO/FPO locations needs to be sent by Dec. 16.

Last-Minute Shipping Dates (for delivery on Monday, Dec. 24)

•Wednesday, Dec. 19 -- Ship UPS 3 Day Select •Thursday, Dec. 20 -- Ship UPS 2nd Day Air •Friday, Dec. 21 -- Ship UPS Next Day Air

Ship Luggage Ahead
To cut down on baggage fees and time in line at the airport, you may want to think about shipping your luggage. There are several ways you can do this: shipping a suitcase as-is; packing and shipping a suitcase in a box; or purchasing a luggage box instead of using a suitcase.

By putting luggage in a box, you can protect your luggage and provide a good surface for a shipping label.

Here are some helpful tips for packing and shipping your luggage:

•Be sure to notify the place you will be staying that you are expecting a package. That way, they will sign for the package even if it arrives before you do.

•Make sure you have the correct destination address. Some hotels and resorts have a separate luggage receiving address.

•Put an additional address label inside the luggage or box in case the outside label is damaged or lost.

•Cut down on your hassle by having your shipment professionally packed at a local pack-and-ship retailer, such as The UPS Store. Expert packing is especially recommended for fragile items and odd or oversized items.

•By using a shipping option such as UPS, you can track your luggage all the way to its destination, even via cell phone or other web-enabled wireless devices.

•If you are shipping your belongings ahead to your destination, you'll probably need to send items back home as well. One option is to pack a flattened box and a roll of packaging tape for sending home gifts, souvenirs, or even dirty laundry.

•Because of the duties and taxes associated with international shipments, it is not recommended that luggage is shipped internationally.