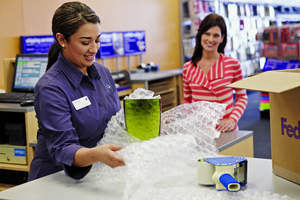 Photo courtesy of FedEx


MISSION, KS -- (Marketwire) -- 11/08/12 -- (Family Features) The holidays are usually pretty hectic, and the last thing you need is to stress over shipping your holiday gifts. With millions of packages moving across the country every day, knowing how to pack and when to ship your gifts can save you time and money, taking the hassle out of holiday shipping.

These tips from FedEx will help you ensure the safe and timely delivery of your holiday packages.

Smart Packing Tips

•Use new, sturdy boxes with the flaps intact, and do not reuse boxes. Select a box that is large enough to accommodate the proper thickness of cushioning material.

•Wrap items individually with cushioning material and center them in cartons away from other items and away from the sides, corners, top and bottom of the box.

•Choose cushioning of appropriate density and thickness, and use enough to fill all void spaces in your shipping container. Position at least two inches of bubble wrap, peanuts or other packing materials on all sides, and use a heavy duty tape designed for packaging.

•Double-box fragile items with 3 inches of cushioning in and around the smaller box.

•For odd- or irregular-shaped items, be sure to wrap and tape all sharp edges or protrusions.

•Position the shipping label squarely on the most visible side of the container away from any folds or seams. Provide complete sender and recipient addresses, including zip codes and telephone numbers. Make sure the label is properly and securely attached. FedEx also recommends placing an extra label, business card or letterhead with the shipper's address and phone number inside the package before sealing it.

•Apply at least three strips of packing tape (no duct or masking tape) to the top and bottom sides of the container using the H taping method.



Don't be afraid to ask for packing and shipping help. There are more than 1,800 FedEx Office Print & Ship Center locations around the world that provide a variety of packing and shipping supplies and services.

Smart Shipping Tips

•Send your gifts ahead. If you are traveling this holiday season, take the hassle out of carrying wrapped packages with you by sending your gifts ahead of your arrival.

•Ship early in the season. This will allow you to avoid the lines and provide you with a greater selection of shipping service options. Take advantage of FedEx Ground, FedEx Home Delivery, and FedEx Express Saver and 2Day services to save money on your shipments.



Holiday Shipping Deadlines
For delivery in time for Christmas, the last day to ship with FedEx Ground is Monday, December 17, and the last day to ship with FedEx Express is Saturday, December 22.
For more tips, or to create and print a shipping label, visit www.fedex.com.

Recipe for a Safe and Crumble-Free Sweet Treat
If you're sending cookies or other sweet holiday gifts, make sure you pack them properly so that they don't arrive as crumbs.