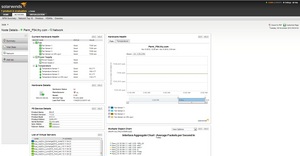 SolarWinds Network Performance Monitor (NPM) is an affordable, easy to use tool that delivers real-time views and dashboards that enable IT professionals to visually track and monitor network performance at a glance.


AUSTIN, TX -- (Marketwire) -- 11/07/12 -- SolarWinds (NYSE: SWI), a leading provider of powerful and affordable IT management software, today announced the upcoming release of its purpose-built network monitoring solution, SolarWinds Network Performance Monitor (NPM), designed to deliver powerful and easy-to-use functionality out of the box with the power of customization to address scale and complexity of today's networks.

Networks have evolved from one-size-fits-all single vendor environments to a complex array of technologies, both physical and virtual, as well as specialized vendors. With this evolution, and the emergence of cloud computing, the job of the network engineer has become more complex. At the same time, the available staff and resources have been squeezed as businesses adjust to the current economic times.

By working closely with and listening to members of thwack, SolarWinds' online community made up of 100,000+ IT users, the company is able to prioritize the functionality that addresses the needs of users today and keep a pulse on the anticipated problems of tomorrow. This interaction with thwack members enables SolarWinds to ensure that NPM and its other products are designed to help IT pros do their jobs more efficiently and effectively.

IT pros want more than basic up/down statistics on all network devices. They want deeper, vendor-specific insight on different kinds of hardware and network services. In the last three releases of SolarWinds NPM, the company has added support for Cisco UCS, Cisco Nexus 1000v, Juniper, Meru Wireless Controller, JunOS, Netscreen, VMware vSphere and Microsoft Hyper-V. The latest SolarWinds NPM will extend the view and support of more hardware and network services, including:

•F5 BIG-IP Application Delivery Controller and HP MSM760/765 wireless access controller support improves multi-vendor ease of use for heterogeneous networks. •Hardware health monitoring delivers at-a-glance insight into the health network hardware by monitoring, alerting and reporting on the state of key device sensors including temperature, fan speed and power supply.

Combined with a comprehensive performance and health view, IT pros also need faster, more efficient ways to manage network issues. The new SolarWinds NPM will help accelerate and simplify troubleshooting with improved data visualization and organization, including:

•Real-time, interactive drag-and-discover performance charts display key device performance statistics like interface throughput, CPU load, latency, packet loss, disk space used, and more. •Multiple Universal Device Pollers (UnDPs) chart graphs and summarizes the results of a single UnDP for multiple nodes in one view. •Audit Tracking logs, alerts and reports changes users make including node deletions and logins/logouts for compliancy.