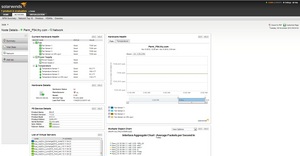 SolarWinds Network Performance Monitor (NPM) is an affordable, easy to use tool that delivers real-time views and dashboards that enable IT professionals to visually track and monitor network performance at a glance.


AUSTIN, TX -- (Marketwire) -- 11/07/12 -- SolarWinds (NYSE: SWI), proveedor líder del poderoso y económico software de gestión de tecnología de la información (TI), anunció hoy el próximo lanzamiento de su solución de monitoreo de redes, SolarWinds Network Performance Monitor (NPM). NPM ha sido diseñado para brindar funcionalidad poderosa y fácil utilización desde el comienzo, con capacidad de personalización para acomodarse a la escala y complejidad de las redes de hoy.

Las redes han evolucionado de entornos universales de proveedor único, a una gama compleja de tecnologías, tanto físicas como virtuales, así como también de proveedores especializados. Debido a esta evolución y a la aparición de la computación en nube, el trabajo de los ingenieros de redes se ha vuelto mucho más complejo. Al mismo tiempo, el personal y recursos disponibles se han visto reducidos a medida que las empresas se adaptan a la situación económica actual.

Al trabajar de cerca y escuchar a los miembros de thwack, la comunidad en línea de SolarWinds compuesta por más de 100.000 usuarios de TI, la empresa es capaz de priorizar la funcionalidad que atiende a las necesidades de los usuarios en la actualidad y a estar atenta a los problemas que se pueden prever mañana. Esta interacción con los miembros de thwack le permite a SolarWinds garantizar que NPM y sus demás productos estarán diseñados para ayudar a los profesionales de TI a desempeñar su trabajo de manera más eficiente y eficaz.

Los profesionales de TI desean más que estadísticas básicas de números altos y bajos en todos los dispositivos de la red. Desean tener una visión más profunda y específica de cada proveedor para los diferentes tipos de hardware y servicios de red. Durante los últimos tres lanzamientos de NPM de SolarWinds, la empresa ha agregado soporte para Cisco UCS, Cisco Nexus 1000v, Juniper, Meru Wireless Controller, JunOS, Netscreen, VMware vSphere y Microsoft Hyper-V. La última versión de NPM de SolarWinds ampliará la visualización y soporte de hardware y servicios de red adicionales, incluyendo:

•Soporte para el controlador de entrega de aplicaciones F5 BIG-IP y soporte para el controlador de acceso inalámbrico HP MSM760/765 que mejora la facilidad de utilización de múltiples proveedores para las redes heterogéneas. •Monitoreo del estado del hardware que ofrece una visualización instantánea del estado del hardware de la red a través del monitoreo, alerta y reporte del estado de sensores clave de los dispositivos incluyendo la temperatura, velocidad del ventilador y fuente de energía.