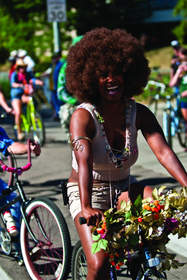 New Belgium Brewing's Tour de Fat



FORT COLLINS, CO -- (Marketwire) -- 11/07/12 -- New Belgium Brewing today announced that Tour de Fat, the traveling tour of bikes, beer and philanthropy, raised more than $500,000 for local nonprofits this year, the most money ever generated in one season. The money came from beer and merchandise purchases and the cars donated in each city through the car-for-bike swap.

Now in its 13th season, Tour de Fat also broke the $2 million mark in total funds raised since its inception. The money from each stop goes to nonprofit organizations, generally in the world of bike advocacy, with money spent in a wide variety of ways, including trail maintenance, safety education, lobbying for better bicycle communities and a wide variety of other impactful initiatives.

Tour de Fat takes a whimsical approach to heightening bicycle culture by hosting a costumed bike parade and bike-themed activities, complemented by live entertainment, New Belgium beer, local food, art bikes and more.

Tour de Fat traveled to 15 cities between June and October, attracting a total of 74,400 festival attendees and 47,150 parade cyclists (up 4,850 attendees and 6,000 riders from 2011). In addition, the festival had an impressive 86 percent diversion of waste from landfills. Tour de Fat kicked off in Nashville, TN on June 2 and wrapped up in Austin, TX on October 20, visiting Washington, DC and Atlanta for the first time. Tempe, AZ raised the most money ($87,216) and New Belgium's hometown of Ft. Collins, CO had the most parade riders and festival-goers with 21,000 people. To see how each stop performed, a city-by-city breakdown is included below.

As the pinnacle of the event, Tour de Fat hosted the sixth annual car-for-bike swap. A volunteer in each of the 15 cities traded in his or her vehicle for a bike and committed to living car-free for the next year. Each swapper chose a local bike shop to help turn a $2,250 budget into an ultimate car-replacement commuter bike. Vehicles for Charity auctioned the cars, with proceeds benefitting Tour De Fat's local nonprofit partners. You can visit the swappers' blog at http://trademycarforabike.tumblr.com/.

"Fifteen cities, thousands of miles, lots of sunburns, and a few beers along the way equals another fun season," said Matt Kowal, Tour De Fat Impresario. "Thanks to all who helped raise money for bicycle advocacy across the USA!"

To see photos, videos, and other details from some of the 2012 tour stops, visit https://www.facebook.com/TourDeFat. For more details on New Belgium Brewing, go to http://www.newbelgium.com/.