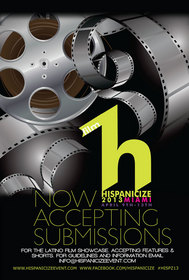 Submit your film to the Hispanicize 2013 Film Festival at HispanicizeEvent.com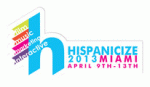 MIAMI, FL -- (Marketwire) -- 11/30/12 -- The Hispanicize 2013 Film Festival issued a national call for feature length and short film submissions today as part of a robust program expansion for 2013 that will spotlight more filmmakers and celebrities, and will include collaboration with other film festivals. Hispanicize 2013 (http://www.hispanicizeevent.com), the fourth annual Latino trends event for filmmakers, bloggers, journalists, marketers and music artists, will take place April 9-13, 2013 at the Eden Roc Hotel in Miami Beach.

"Our commitment to film is expanding with a festival that is powerfully sharpened to showcase the works and talent of independent Latino filmmakers like never before," said Manny Ruiz, founder and creative director of Hispanicize 2013. "Everything we're doing for 2013 is meant to empower filmmakers."

A Bolder, Unprecedented Agenda

Adds Hispanicize 2013 Film Festival Curator Roman Morales: "The goal of the Hispanicize 2013 Film Festival is to showcase 'The Next Generation' of U.S. Latino filmmakers. We want to be the launch pad for the future Robert Rodriguezes, Guillermo del Toros or Alejandro González Iñárritus."

To support these goals, the Hispanicize 2013 Film Festival has several new or enhanced changes for 2013 including:

More feature length films and short films with heavy promotion in traditional and social media, as well as filmmaker profiles: Organizers will work closer with filmmakers to spotlight their bios, photos and film trailers. New media partnerships will also connect filmmakers directly to entertainment media and bloggers.

Latino Filmmakers Marketplace: Hispanicize 2013 will feature its first Latino Filmmakers Marketplace to help connect independent Latino filmmakers directly to investors and distributors.

An agenda and slate of film built by industry influencers: The Hispanicize 2013 Film Festival will be directed by Roman Morales, who returns to that role with an influential national film committee comprised of Calixto Chinchilla, Executive Director of the New York International Latino Film Festival; Jaie Laplante, Executive Director of the Miami International Film Festival; Bel Hernandez, CEO of Latin Heat Media and co-founder of the Hispanicize 2013 Film Festival; Ivette Rodriguez, CEO of American Entertainment Marketing; Hugo Perez, award winning producer and Director of Hispanic Marketing for The Zocalo Group; and Monica Taher, Business Development Director Getty Images Hispanic and Getty Images Latin America.

Content focused on the business and marketing of Latino films: Most film sessions in Hispanicize 2013 will focus on case studies related to the business, financing and marketing of films made by and/or for Latinos. Additionally, there will be a Filmmaker's Edition of the "15-minutes of Genius" sessions, which are Ted-like talks featuring five back to back presentations packed with genius insights about a particular topic.