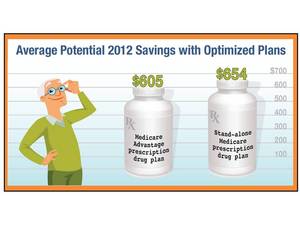 The average visitor to PlanPrescriber.com could save over $600 in 2013, if they switched to the plan with the lowest total out-of-pocket costs.


MOUNTAIN VIEW, CA -- (Marketwire) -- 11/30/12 -- Today eHealth, Inc. (NASDAQ: EHTH), which operates PlanPrescriber (www.planprescriber.com) and eHealthMedicare (www.eHealthMedicare.com), released a list of helpful tips for people comparing Medicare Advantage plans and stand-alone Medicare Part D prescription drug plans during the 2012/2013 Medicare Annual Enrollment Period (AEP).

eHealthMedicare and PlanPrescriber provide educational and comparison tools for Medicare insurance products that allow customers to compare Medicare products side-by-side; connect with knowledgeable, licensed agents; and enroll in select products online or over the phone.

The AEP began on Oct. 15 and runs through Dec. 7, 2012. During AEP, Medicare beneficiaries can make changes to their stand-alone prescription drug plans and Medicare Advantage plans before the 2013 plan year begins, January 1, 2013. In most cases, changes to coverage must be completed during Medicare's Annual Enrollment Period.

Tips for comparing coverage side-by-side during Medicare's 2013 Annual Enrollment Period

1. Don't wait: Medicare beneficiaries have about eight weeks to select their coverage. But last year, 42 percent of people enrolling through eHealth waited for the last nine days to apply, which resulted in longer hold times for customers who wished to speak with a licensed agent.

2. Focus on your co-pays for prescription drug coverage: A 2012 study published by PlanPrescriber found that only eight percent (8%) of Medicare enrollees visiting PlanPrescriber during the first three weeks of in this year's AEP were in the drug plan with the lowest total out-of-pocket costs for their drugs. The average person would save over $600 on prescription drugs in 2013 by reviewing their coverage and switching to the plan that covered their drugs at the lowest possible cost. That's because people often enroll in a plan that doesn't give them the lowest price for the specific drugs they take. For example, one plan may charge a $10 co-pay for a generic drug while another charges $18. These costs can add up quickly.

3. Make sure you are switching to generics whenever possible: There will be more opportunities to save money on prescription drugs in 2013 because several popular drugs will have gone generic. Three of the top 75 drugs entered into PlanPrescriber.com's Medicare prescription drug plan comparison tool during the 2011/2012 AEP will have generic versions before the end of 2013. They are: Singulair (generic Montelukast sodium is already available); Cymbalta (generic is Duloxetine, anticipated in December 2013); and Niaspan (generic is Niacin, anticipated in September 2013). If there is a generic alternative available for any of your prescription drugs, talk to your doctor to see if the generic version will work for you.