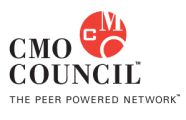 PALO ALTO, CA and SINGAPORE -- (Marketwire) -- 11/20/12 -- Digital marketing transformation across Asia is advancing thanks to high levels of optimism in digital marketing's ability to attract and engage a highly mobile and digitally connected consumer, according to findings of a new study from the Chief Marketing Officer (CMO) Council. Regional and global leaders largely support the move to digital, but the reality of limited budgets, a lack of talent across both in-house and agency teams, and a desire to move slowly in "pilot-mode" versus full deployments may slow the march forward as Asia looks to catch up with global digital marketing practices.

The study, dubbed the "APAC Digital Marketing Performance Dashboard," revealed more than 90 percent of marketers believe digital marketing could create competitive advantage for their company, and 52 percent feel that digital marketing is crucial in helping create a more customer-centric organization. Management's view on digital also bolstered confidence, as 38 percent of marketing leaders said they had at least one strong digital marketing champion on the APAC leadership team of their organization, and a further 60 percent said the promise of greater accountability from the marketing function was driving the leadership's interest in digital marketing strategy and programs.

Despite management support, strategy and capabilities are falling short as only 6 percent of respondents said they rated their own digital marketing operations as "highly evolved." Low budgets are also slowing the advancement of digital, with 53 percent of respondents citing budget limitations as a significant factor preventing them from undertaking critical activities such as testing and analysis.

But marketers are hopeful for the future and expect to increase investment in the fiscal year ahead. In fact, 47 percent of respondents said they would increase allocation to digital marketing to between 10-24 percent of total marketing budgets, and 22 percent said they would increase spend to 25-49 percent.

"Interest and optimism in digital marketing are high, but investment levels across Asia-Pacific are still low," noted Mark Phibbs, Senior Director of Marketing for Adobe APAC. Seventy-two percent of APAC marketers spend less than 25 percent of their total budget on digital, and 37 percent allocate less than 10 percent. However, the percentage of marketers expecting to allocate more than 50 percent of their budget is set to almost double in the fiscal year ahead. The commitment to digital is clearly happening."

As their global marketing peers are looking to digital marketing channels to deliver insights and intelligence to help power everything from customer engagements to products, APAC marketers have a more tactically focused data agenda. Only 7 percent of marketers see data as a key competitive differentiator, instead looking to data to measure KPIs (key performance indicators) and campaign results. Only 15 percent of respondents leverage data continuously throughout a campaign's lifecycle, and only 19 percent diagnose results and enhance audience segmentation with data collected through digital campaigns.