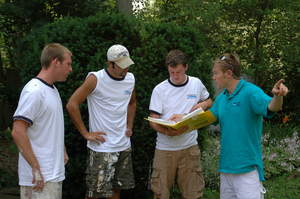 A Temporary Summer Job or your First Step toward Career Success?



WOBURN, MA -- (Marketwire) -- 11/20/12 -- Summer jobs and student internships are great ways to help pay for tuition and extracurricular expenses. Many students will find a job at a local retail store, restaurant, café or some business that doesn't require much physical or mental stress. If you are looking for a way to make money while actively gaining knowledge and skills that you will use in the real world after graduation, then perhaps a College Pro franchise opportunity is exactly what you have been waiting for.

For many people, college is the last great threshold before passing in to the real world work industry. Many students struggle before, during and after college deciding what to do once they have a diploma in hand. After all, just because you've graduated doesn't necessarily mean you know how you want to spend the next 30 years in the work force. College Pro Painters offers a great way to test out real life business scenarios, and the Franchise Manager program exposes students and entrepreneurs to many different aspects of business such as marketing, finance and client services. Many College Pro alumni stay with the company, moving into corporate positions, while many others parley the skills and talents acquired through the program into successful careers spanning the spectrum from advertising to small business owners.