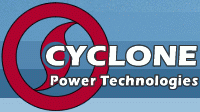 POMPANO BEACH, FL -- (Marketwire) -- 11/19/12 -- Cyclone Power Technologies (OTCQB: CYPW) has filed with the Securities and Exchange Commission its Quarterly Report on Form 10-Q for the period ended September 30, 2012, and has released the following progress report to its shareholders:

Dear Shareholders:

Greeting from South Florida. We had a very positive third quarter marked by increased revenue, decisive steps to limit shareholder dilution, and key business and technological advancements.

Our September 30, 2012 financial statements are now available in our Quarterly Report on Form 10-Q on file with the Securities & Exchange Commission. On behalf of Cyclone's executive team, I would like to take this opportunity to highlight some important developments from that report.

•We recognized $502,000 in revenue in the quarter and over $880,000 in total revenue since the beginning of the year. For the entire year we are forecasting over $1.1 million in revenue, a 400% increase over 2011.

•We secured over $660,000 in financing from three strong partners on favorable terms. GEM Global Yield Fund (GGYF), a $3.4 billion international investment group, purchased $262,000 of restricted common stock in the quarter. New York based Brio Capital LP and California based Gemini Master Fund Ltd acquired 12-month Convertible Promissory Notes bearing a 9% Original Issuance Discount and a floor conversion price of $0.15 per share (33% above our current trading price), subject to standard anti-dilution and price protection provisions.

•We withdrew our S-1 registration statement filed with the SEC covering 10 million additional shares and shares underlying 5 million warrants to be issued to GGYF pursuant to a second round of financing. We made the important decision not to re-file a registration statement at this time because the structure of the deal, whereby GGYF would be able to purchase free-trading shares from us at a 10% discount to market, would be dilutive to our shareholders. Our agreement with GGYF will be amended to provide greater protections to the Company, as suggested by the SEC, and we will reevaluate filing a new registration statement next year if needed.

•We reduced the number of shares issued to service providers by 60% over the previous quarter. We have also instituted incentive programs for our employees that provide them with stock options instead of common stock grants.

These results demonstrate that Cyclone is on the right path to growth. We are focused on generating revenue and related profitability from operations and taking steps to limit shareholder dilution. Building confidence and increasing shareholder value are critically important to our Company and our executive team. Moving forward, our objectives are clear: continue to push ahead the commercialization of our technology.

Cyclone's most immediate focus is pursuing opportunities in the area of waste-to-energy. This includes use of biomass, bio-waste, waste fuels and waste heat to power our engines and spin electric generators. We believe that Cyclone can achieve considerable market penetration over the coming years in the smaller-scale distributed market (under 500kWe output) as businesses, industrial sites, municipal waste authorities and agricultural concerns gain greater understanding of the necessity and economic benefits of utilizing waste resources more effectively. This represents potentially a multi-billion dollar business in the U.S. alone, with even greater possibilities overseas in rapidly developing nations.