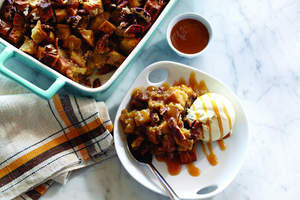 Pecan Pie Bread Pudding


MISSION, KS -- (Marketwire) -- 11/15/12 -- (Family Features) When it comes to holiday baking, there's always that one special recipe the family looks forward to year after year. This holiday season, spread more holiday joy by adding a sweet, complementary treat to a traditional family favorite recipe.

Holiday baking evokes special baking memories, and as recipes are passed down from one generation to the next, so are the ingredients. Eagle Brand® Sweetened Condensed Milk -- a special blend of milk and sugar -- is an essential part of the recipes that have always been a part of your family's holiday traditions. It provides a fool-proof base for all kinds of delicious treats at the holiday table, such as rich chocolate candies, moist cookie bars, picture-perfect pies, luscious cheesecakes, fudgy frostings and creamy smooth ice cream. This year, add to your holiday tradition with one of these perfect pairings:

•Make the family's favorite pumpkin pie recipe even more special by pairing it with a homemade caramel apple or butter pecan ice cream. •Before putting the finishing touches on the family custard recipe, add a homemade caramel sauce for a sweet and sophisticated dessert. •Looking for a new tradition? Try this delicious Pecan Pie Bread Pudding with a scoop of homemade vanilla ice cream.

Find these delicious recipes -- and more -- as well as helpful holiday baking tips at EagleBrand.com and Facebook.com/EagleBrand.

Pecan Pie Bread Pudding
Yield: 9 Servings
Prep Time: 20 Minutes
Cook Time: 55 Minutes



Ingredients:1 (6 oz.) mini loaf French bread, cubed (8 cups loosely packed) Crisco® Original No-Stick Cooking Spray6 large eggs1 14 oz can Eagle Brand® Sweetened Condensed Milk3/4 cup dark corn syrup1/2 cup firmly packed brown sugar1/2 cup butter, melted1 teaspoon vanilla extract1 1/2 cups coarsely chopped pecans, divided Vanilla ice cream Hungry Jack® Original Syrup Smuckers® Sundae Syrup™ Caramel Flavored Syrup Whipped topping
Instructions:
1) HEAT oven to 350 degrees F. Spread bread cubes in single layer on 15 x 10-inch baking pan. Bake stirring occasionally. 10 minutes or until cubes are toasted. Coat 13 x 9-inch baking dish with no-stick cooking spray.
2) BEAT eggs in large bowl with electric mixer on medium speed until fluffy. Blend in sweetened condensed milk, dark corn syrup, brown sugar, butter and vanilla. Stir in toasted bread cubes and 1 cup pecans until evenly moistened. Pour into prepared baking dish. Sprinkle with remaining pecans. Allow to stand 30 minutes.
3) BAKE 40 to 45 minutes or until golden brown around the edges. Cool 5 minutes. Serve warm or cooled with ice cream, syrup, caramel flavored syrup or whipped topping, as desired.
This recipe may be served as a dessert or a breakfast entrée. To serve for dessert, top with ice cream, caramel flavored syrup or whipped cream. For breakfast, serve warm drizzled with pancake syrup.
Vanilla Ice Cream

Yield: 1 1/2 quarts
Prep Time: 10 minutes
Ingredients:4 cups (2pts.) half-and-half or light cream1 (14 oz.) can Eagle Brand® Sweetened Condensed Milk2 tablespoons vanilla extract
Instructions:
1) COMBINE all ingredients in container of ice cream maker; mix well.
2) FREEZE according to manufacturer's instructions. Freeze leftovers.
REFRIGERATOR-FREEZER METHOD
1) OMIT half-and-half. Combine sweetened condensed milk and vanilla in large bowl. Fold in 2 cups (1 pint) heavy cream, whipped (DO NOT use non-dairy whipped topping). Pour into 9 x 5-inch loaf pan or other 2 quart container. Cover. Freeze 6 hours or until firm.
©/™/® The J.M. Smucker Company.
About Family Features Editorial Syndicate

This and other food and lifestyle content can be found at
www.editors.familyfeatures.com
. Family Features is a leading provider of free food and lifestyle content for use in print and online publications. Register with no obligation to access a variety of formatted and unformatted features, accompanying photos, and automatically updating Web content solutions.
Image Available:
http://www2.marketwire.com/mw/frame_mw?attachid=2150607
Add to Digg
Bookmark with del.icio.us
Add to Newsvine


Matthew Barksdale
mbarksdale@familyfeatures.com
1-888-824-3337
http://editors.familyfeatures.com