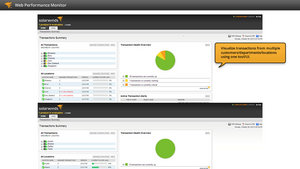 SolarWinds Web Performance Monitor, formerly Synthetic End User Monitor (SeUM), tracks the response time and health of Web applications and websites to help maintain business-critical uptime.


AUSTIN, TX -- (Marketwire) -- 11/15/12 -- SolarWinds (NYSE: SWI) un proveedor líder del potente y económico software de gestión de TI, anunció el día de hoy mejoras a su producto de vigilancia del desempeño web SolarWinds Web Performance Monitor (WPM), antes conocido como Synthetic End User Monitor (SeUM), justo en el momento en que los administradores de sistemas se preparan para un aumento en la demanda de compras en línea por las fiestas de fin de año.

El desempeño de las aplicaciones y sitios Web es crucial para los negocios, ya que cualquier paralización no planificada podría traer pérdidas en la productividad, clientes insatisfechos, pérdida de utilidades y mucho más. Con la pronta llegada del Cyber Monday y las fiestas de fin de año, los administradores de TI se encuentran en una alerta permanente, considerando lo que esto significa para sus negocios virtuales y la experiencia de los usuarios en línea. En una encuesta que* SolarWinds llevó a cabo entre 71 profesionales de TI, el 42 por ciento consideró que Cyber Monday es un tema que merece vigilancia y planificación proactiva.

No importa si planifican para Cyber Monday, para una promoción de vacaciones de verano o para una expansión geográfica, los administradores de sistemas deberían seguir los consejos siguientes para que sus aplicaciones y sitios web mantengan su solidez:

1. Efectuar pruebas de impacto de los cambios hechos a un sitio web desde la perspectiva del usuario final antes del gran evento - Establecer alertas y lineamientos básicos de desempeño, y luego vigilar cada paso fundamental de las transacciones para identificar problemas y supervisar desde diferentes ubicaciones para garantizar que todas funcionen de manera óptima.

2. Asegurar la capacidad adecuada para el flujo de ingresos de solicitudes de los usuarios finales - La comunicación entre todas las partes interesadas es esencial. Hablar con los equipos, como el de comercialización, para anticipar los desafíos de las actividades planificadas que pudieran causar cambios súbitos, luego utilizar los datos históricos de los sistemas de vigilancia para llevar a cabo una planificación de carga de percentil 95 degrees .

3. Supervisar la disponibilidad y el desempeño de la infraestructura de soporte - Supervisar todo lo que pueda, incluyendo almacenamiento compartido, infraestructura de visualización, bases de datos, corta fuegos y componentes centrales de red y los vínculos WAN hacia el exterior y utilizar al personal de TI o a los proveedores de hosting para garantizar la rápida resolución de cualquier problema identificado.