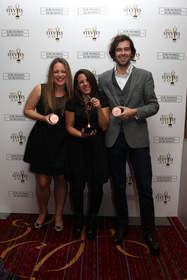 DiGennaro Communications founder and CEO Samantha DiGennaro (center) with her employees Gemma Pollard and Michael Murray accepted one of two Stevie Awards the company won on Nov. 9, 2012.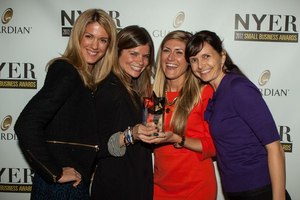 In 2011, staffers from DiGennaro Communications accepted the company's Stevie Award for Best Overall Company of the Year.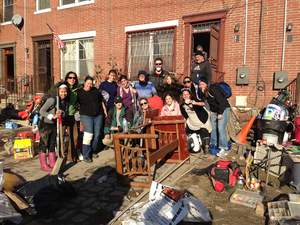 DiGennaro Communications staffers volunteered in Rockaway, Queens, cleaning out flooded basements on Nov. 9, 2012.



NEW YORK, NY -- (Marketwire) -- 11/15/12 -- DiGennaro Communications (DGC), a leading independent PR agency, has won two bronze Stevie® Awards in the categories of Female Entrepreneur of the Year -- Business Services with 11 to 2,500 employees and Company of the Year -- Business Services with more than 10 employees at the 9th Annual Stevie Awards For Women in Business.

This is the second year in a row that DGC, which was founded in 2005, has been recognized by the Stevie Awards: In 2011, the agency won "Best Overall Company" in the category of Services Business for up to 100 employees.

"A company is only as good as its people," said Samantha DiGennaro, CEO and Founder of DGC. "These honors are direct results of the culture and team we've built at DGC and the longstanding client relationships we have nurtured since we launched nearly seven years ago.

"I'm honored to be in the company of other female entrepreneurs recognized by the Stevie's and thank my team and our clients for contributing to our shared successes."

DiGennaro added that she and her executive team have always emphasized culture-building as one of the main pillars of DGC's success, with a "work hard, play hard" philosophy. Staffers are encouraged to give back to the community as well as participate in company-sponsored social activities such as attending minor-league baseball games, playing on a DGC sports team and wine happy hours each Friday. A group of DGC employees even created their own "Call Me Maybe" video, a take on the viral video sensation that connected millions around the world this summer.

DGC's Culture: Giving Back to the Community

In the aftermath of Hurricane Sandy, DGC staffers turned their extracurricular attention to a more serious cause by volunteering to help residents in the Rockaway section of Queens, which was particularly hard hit by the storm.

DiGennaro said, "My team made me so proud when they suggested we focus our volunteer clean-up efforts in Rockaway, as that's where I grew up. Seeing their enthusiasm as we cleaned out flooded homes and distributed food to displaced families reinforced just how much a business's culture and its people can have a positive impact beyond the bottom line."

The Rockaway effort wasn't the first charitable cause for DGC. Each year, the company holds a coat drive for New York Cares and participates in Toys for Tots during the holidays. The company also gives staffers a few hours each quarter to help deliver food to home-bound New Yorkers through God's Love We Deliver.

Since 2011, DGC has won a total of seven awards that recognize the company's strengths in leadership, entrepreneurial culture, philanthropy and business growth including:

•New York Enterprise Report Small Business Awards: Winner, Leadership Category •Inc. 500|5000: America's Fastest Growing Private Companies •New York Enterprise Report: Top five most entrepreneurial companies in New York City •New York Enterprise Report: Small Business Awards HR category finalist •8th Annual Stevie Awards for Women in Business: Best Overall Company of the Year •9th Annual Stevie Awards for Women in Business: Female Entrepreneur of the Year -- Business Services with 11 to 2,500 employees and Company of the Year -- Business Services with more than 10 employees

The Stevie Awards for Women in Business are the world's top honors for female entrepreneurs, executives and the organizations they run. All individuals and organizations worldwide are eligible to submit nominations -- public and private, for-profit and non-profit, large and small. The 2012 Stevie Awards received entries from 17 nations and territories. More than 1,200 nominations from organizations of all sizes and in virtually every industry were submitted this year for consideration in a wide range of categories.

About DiGennaro Communications (DGC)
DiGennaro Communications is a leading full-service strategic communications company specializing in the marketing, media, entertainment and business sectors. Its clients include premiere global and boutique companies such as GroupM, David & Goliath, Goodby, Silverstein & Partners, Organic and Live Nation. In 2011, DGC was named one of the top five most entrepreneurial companies in New York City by the New York Enterprise Report and was named a finalist in the HR category of the New York Enterprise Small Business Awards. DGC is listed on the Inc. 500|5000 list.

Embedded Video Available



Image Available: http://www2.marketwire.com/mw/frame_mw?attachid=2155829
Image Available: http://www2.marketwire.com/mw/frame_mw?attachid=2155831
Image Available: http://www2.marketwire.com/mw/frame_mw?attachid=2155834
Embedded Video Available: http://www2.marketwire.com/mw/frame_mw?attachid=2155839


Add to Digg Bookmark with del.icio.us Add to Newsvine



Contact:
Erin Donahue
erin@digennaro-usa.com
646-380-4768