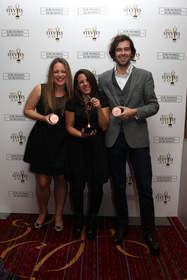 DiGennaro Communications founder and CEO Samantha DiGennaro (center) with her employees Gemma Pollard and Michael Murray accepted one of two Stevie Awards the company won on Nov. 9, 2012.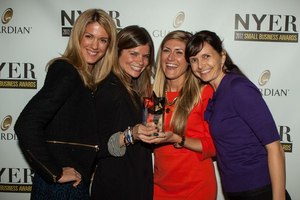 In 2011, staffers from DiGennaro Communications accepted the company's Stevie Award for Best Overall Company of the Year.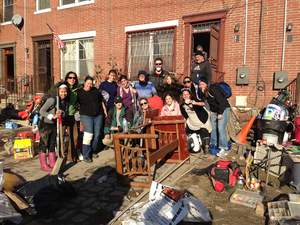 DiGennaro Communications staffers volunteered in Rockaway, Queens, cleaning out flooded basements on Nov. 9, 2012.



NEW YORK, NY -- (Marketwire) -- 11/15/12 -- DiGennaro Communications (DGC), a leading independent PR agency, has won two bronze Stevie® Awards in the categories of Female Entrepreneur of the Year -- Business Services with 11 to 2,500 employees and Company of the Year -- Business Services with more than 10 employees at the 9th Annual Stevie Awards For Women in Business.

This is the second year in a row that DGC, which was founded in 2005, has been recognized by the Stevie Awards: In 2011, the agency won "Best Overall Company" in the category of Services Business for up to 100 employees.

"A company is only as good as its people," said Samantha DiGennaro, CEO and Founder of DGC. "These honors are direct results of the culture and team we've built at DGC and the longstanding client relationships we have nurtured since we launched nearly seven years ago.

"I'm honored to be in the company of other female entrepreneurs recognized by the Stevie's and thank my team and our clients for contributing to our shared successes."

DiGennaro added that she and her executive team have always emphasized culture-building as one of the main pillars of DGC's success, with a "work hard, play hard" philosophy. Staffers are encouraged to give back to the community as well as participate in company-sponsored social activities such as attending minor-league baseball games, playing on a DGC sports team and wine happy hours each Friday. A group of DGC employees even created their own "Call Me Maybe" video, a take on the viral video sensation that connected millions around the world this summer.