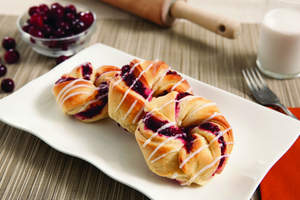 Cranberry Tart


MISSION, KS -- (Marketwire) -- 11/15/12 -- (Family Features) Celebrate the holiday season by giving familiar flavors a little bit of wow. You can impress guests with these delightful desserts -- that are actually easy to make.

Sweet and tangy Cranberry Tarts, luscious Individual Pumpkin Pies, and Premium Pecan Pie can be made with ingredients you probably have on hand, like Fleischmann's Yeast and Karo Syrup. Bake them up ahead of time and you'll have delightful treats ready for any holiday celebration.

For more holiday dessert recipes and baking inspiration, visit www.breadworld.com and www.karosyrup.com.



Cranberry TartsRefrigerate Time: 2 to 24 hoursProof Time: 30 to 45 minutesBake Time: 12 to 15 minutesMakes 12 tarts3 1/2 to 4 cups all-purpose flour1/4 cup sugar1 envelope Fleischmann's Active Dry or RapidRise Yeast1 teaspoon salt3/4 cup evaporated milk1/4 cup butter or margarine1/4 cup water2 eggs Cranberry Filling (recipe follows) Powdered Sugar Icing, optional (recipe follows)
Combine 1 1/2 cups flour, sugar, undissolved yeast and salt in a large bowl.
Heat milk, butter and water until very warm (120 degrees F to 130 degrees F). Gradually add to flour mixture; beat 2 minutes at medium speed of electric mixer, scraping bowl occasionally.
Add eggs and 1/2 cup flour; beat 2 minutes at high speed, scraping bowl occasionally. Stir in enough remaining flour to make stiff batter. Cover tightly with plastic wrap; refrigerate 2 to 24 hours.
Remove from refrigerator. Punch dough down. Remove dough to lightly floured surface. Roll to 21 x 12-inch rectangle.
Spread Cranberry Filling over dough to within 1/2 inch of edges. Fold crosswise in thirds, to enclose filling, making a 12 x 7-inch rectangle. Press edges to seal. Cut dough into 12 (1-inch) strips. Holding ends of each strip, twist three times. Pinch together ends of each twisted strip to form tarts; place on greased baking sheets. Cover; let rise in warm, draft-free place until almost doubled in size, about 30 to 45 minutes.
Bake at 400 degrees F for 12 to 15 minutes or until done, switching positions of sheets halfway through baking time for even browning. Remove tarts from baking sheets; let cool on wire racks. Drizzle tarts with Powdered Sugar Icing, if desired.
Cranberry Filling: Combine 1 cup finely chopped cranberries, 1/2 cup sugar, and 1 1/2 teaspoons grated orange peel in a medium saucepan; bring to boil over medium heat. Reduce heat; simmer, stirring frequently, for 5 minutes or until very thick. Remove mixture from heat, and let cool.
Powdered Sugar Frosting: Combine 1 cup powdered sugar, 4 to 5 teaspoons evaporated milk, and 1/2 teaspoon Spice Islands Pure Vanilla Extract in a bowl. Stir until smooth.
Premium Pecan PiePrep Time: 20 minutesBake Time: 20 minutes for the pie shell and 50 to 55 minutes for the pieYield: One 9-inch pie1 (9-inch) pie crust3 eggs (whole)2/3 cup Karo Dark Corn Syrup2/3 cup Karo Light Corn Syrup2/3 cup maple syrup1/4 teaspoon salt1 teaspoon Spice Islands Vanilla Extract1/4 cup unsalted butter, melted1/2 teaspoon all-purpose flour1 1/2 cups pecans (halves or pieces)
Par-bake your favorite pie crust (either homemade or purchased) in a 350 degrees F oven for about 20 minutes or until it just barely starts to brown.
Beat eggs on medium speed of electric mixer for about 30 seconds, until foamy. Add all syrups, salt and vanilla, and beat for about 1 minute on medium speed until well combined.
Add melted butter and flour.
Place pecans in the par-baked pie crust and pour mixture over pecans.
Bake at 350 degrees F for 50 to 55 minutes.
Individual Pumpkin PiesPrep Time: 10 minutesBake Time: 50 minutesCool Time: 1 hourYield: 18 servings1/2 cup sugar1/2 teaspoon salt2 teaspoons Spice Islands Pumpkin Pie Spice2 eggs1/2 cup Karo Light Corn Syrup1 can (15 ounces) pumpkin1 can (12 fluid ounces) evaporated milk18 baking cups size 2 1/2 inches18 vanilla wafers
Mix sugar, salt and spice in a bowl. Add eggs and beat slightly. Stir in corn syrup, pumpkin and evaporated milk; blend well.
Portion baking cups in muffin pans and place 1 vanilla wafer in each. Fill each two-thirds full of pumpkin mixture.
Bake at 300 degrees F for 25 minutes, or until knife inserted in center comes out clean. Cool in pans for 5 minutes; remove.
Cool a minimum of 1 hour before serving. Garnish as desired.
About Family Features Editorial Syndicate

This and other food and lifestyle content can be found at
www.editors.familyfeatures.com
. Family Features is a leading provider of free food and lifestyle content for use in print and online publications. Register with no obligation to access a variety of formatted and unformatted features, accompanying photos, and automatically updating Web content solutions.
Image Available:
http://www2.marketwire.com/mw/frame_mw?attachid=2092620
Add to Digg
Bookmark with del.icio.us
Add to Newsvine


Matthew Barksdale
mbarksdale@familyfeatures.com
1-888-824-3337
http://editors.familyfeatures.com