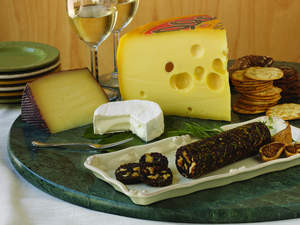 Cheese plate with Fig and Toasted Nut Roll


MISSION, KS -- (Marketwire) -- 11/15/12 -- (Family Features) Hosting a holiday party? Add some magic to the festivities with these enticing bites. The cheese and fruit plate is simple yet stylish and acts as a tantalizing table centerpiece. The appetizers -- stuffed and studded with luscious bits of fig, cheese and seasonal spices -- are the perfect party size.

Visit www.valleyfig.com and www.jarlsbergusa.com for more recipes and holiday sweepstake giveaways. Also, follow Valley Figs at www.facebook.com/ValleyFig, and Jarlsberg at www.facebook.com/JarlsbergUSA.

This classic cheese plate includes three milks -- cow, goat and sheep -- each somewhat mild in their category, ensuring all your guests a most pleasant taste experience.

•Jarlsberg, a semi-soft cow's milk cheese with a mellow-nutty, slightly sweet flavor.•Woolwich Dairy, a triple crème goat brie with light earthy notes and luscious buttery finish.•Garcia Baquero, a traditional Spanish Manchego sheep's milk cheese from La Mancha.

For more, visit www.JarlsbergUSA.com.

Fig and Toasted Nut Rolls add a touch of distinction to cheese plates.

•Made with sweet, dark purple California Mission Figs, a hint of citrus and herbs and stuffed with toasted nuts, this no-bake recipe is simple elegance at its best.•Golden, slightly nutty-flavored Calimyrna Figs are another versatile recipe ingredient, adding sweetness and texture to a wide variety of dishes.•California Dried Figs, bursting with sweet fruit flavor, are available all year around.

For more, visit www.ValleyFig.com.



Fig and Toasted Nut RollMakes 28 to 30 servings14      ounces Blue Ribbon Orchard Choice or Sun-Maid Mission Figs (2 cups)2       teaspoons finely grated lemon or orange zest2/3     cup toasted, blanched whole almonds, toasted walnut pieces, roasted        marcona almonds (without skins) or roasted mixed nuts without        peanuts
Remove and discard fig stems. Cut figs into quarters. Place in bowl of food processor with lemon or orange zest and process until figs are finely chopped and form a paste, stopping to scrape bowl once or twice as needed.
Turn fig mixture out of bowl onto a piece of parchment paper. If nuts are large, cut into halves or quarters. Work nuts into fig mixture, distributing evenly and covering nuts completely with fig mixture. Form mixture into a compact 8-inch-long log. Wrap parchment paper around log, folding in ends to seal. Place in a plastic bag and seal bag. Chill for 12 to 24 hours.