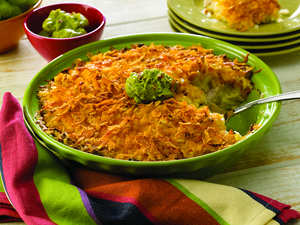 Turkey Potato Cheesy Breakfast Casserole


MISSION, KS -- (Marketwire) -- 11/15/12 -- (Family Features) When you're planning your big turkey dinner, the one thing you want to be sure to do is get a turkey big enough for some delicious leftovers. While turkey sandwiches are good, there's a lot more you can do with this tasty bird.

Breakfast or Brunch -- Wake the family up to a hearty breakfast casserole that's a creamy blend of turkey, sour cream, cream of chicken soup, cheese and hash browns. It has a crunchy topping with a surprise ingredient; and you can finish it off with a dollop of fresh and flavorful Wholly Guacamole. Make it ahead of time so all you have to do is pop it into the oven in the morning.

Lunch -- Enjoy lunch on the lighter side with a turkey salad sandwich. Instead of mayo, this dish gets flavor and 20 nutrients from the avocado in Wholly Guacamole. For extra zip, go with the spicy variety.

Dinner -- For another make-ahead meal, try a zesty turkey and corn enchilada casserole. This dish is easy to put together, and you may have all the ingredients in your pantry already. A cornbread base, your favorite enchilada sauce, turkey, cheese, and a generous serving of your favorite guac all add up to a new family favorite.
Get more leftover ideas with a twist at www.eatwholly.com.

Quick Turkey Tidbits
Need some more inspiration for turkey leftovers? Try one of these easy snack ideas:

Turkey nachos -- Shredded turkey, peppers, onions, black olives and cheese on lime-flavored nacho chips. Top with chunky guac, salsa or sour cream.

Turkey bites -- Top your favorite crackers with a little turkey and a slice of pepper Jack cheese. Microwave until the cheese starts to melt. Add a dollop of salsa or guac.

Mini mexi-pizzas -- Split an English muffin, and spread a little salsa on each half. Top with turkey and shredded cheese. Broil until cheese is bubbly. Top with a dollop of sour cream or guac.



Turkey Potato Cheesy Breakfast CasseroleServes: 82 cups cubed turkey1 cup low-fat sour cream1 10-ounce can cream of chicken soup1/4 cup milk1 cup shredded cheddar cheese, divided1 bag (30 ounces) frozen hash brown potatoes, thawed1/2 onion, diced1/2 cup corn flake cereal1 cup Wholly Guacamole
In mixing bowl, combine turkey, sour cream, soup, milk, 1/2 cup cheese, hash browns and onion.
Spread in bottom of 2 quart dish (greased).
Bake, uncovered, at 350 degrees F for 1 hour.
Add additional 1/2 cup of cheese and corn flake cereal, and bake another 5 to 10 minutes until bubbly and slightly browned.
Let cool for 10 minutes and serve with a dollop of Wholly Guacamole.
Guacamole Turkey SaladServes: 62 tablespoons canola oil1/2 teaspoon salt, divided1 cup of turkey, diced1/4 teaspoon black pepper3/4 teaspoon cumin, ground1 lime zested2 limes, juiced, divided1/4 teaspoon sugar1/4 teaspoon Mexican chili powder1/4 cup red bell pepper, diced1/4 cup yellow bell pepper, diced1/4 cup red onion, diced2 tablespoons cilantro, rough chop1 cup Wholly Guacamole dip
Mix oil, 1/4 teaspoon salt, black pepper, cumin, sugar, chili powder, lime zest and juice of 1 1/2 limes.
Add to turkey and allow to marinate for at least 20 minutes -- do not exceed 30 minutes.
Mix in bell peppers, onion, cilantro, dip, turkey, the rest of the lime juice and remaining salt.
Serve in a pita, on a whole wheat bun, as a lettuce wrap, or with crackers.
Turkey and Corn Enchilada CasseroleServes: 6First Layer 1 15-ounce can corn, drained 1 15-ounce can creamed corn 8 ounces sour cream (non-fat) 1/2 cup ricotta (low-fat) 1 8 1/2-ounce package corn bread mixSecond Layer 1 cup turkey, shredded 1 cup shredded cheese 1 cup enchilada sauce, divided Wholly Guacamole dip, for garnish
Mix together all first layer ingredients in a casserole dish.
Bake at 350 degrees F for 30 minutes or until firm.
Take out of oven, poke fork holes all around it.
Pour 1/2 cup red enchilada sauce over corn bread.
Top with turkey and cheese.
Put back in oven until cheese melts.
Top with remaining enchilada sauce, guacamole dip; serve.
About Family Features Editorial Syndicate

This and other food and lifestyle content can be found at
www.editors.familyfeatures.com
. Family Features is a leading provider of free food and lifestyle content for use in print and online publications. Register with no obligation to access a variety of formatted and unformatted features, accompanying photos, and automatically updating Web content solutions.
Image Available:
http://www2.marketwire.com/mw/frame_mw?attachid=2098685
Add to Digg
Bookmark with del.icio.us
Add to Newsvine


Matthew Barksdale
mbarksdale@familyfeatures.com
1-888-824-3337
http://editors.familyfeatures.com