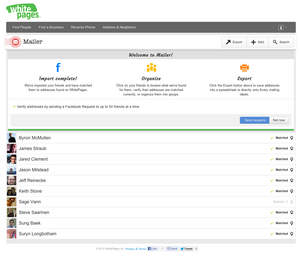 Quickly collect and organize mailing addresses for Facebook friends to send holiday cards, invitations and more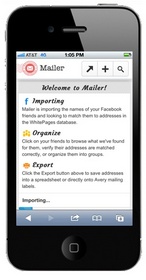 Use WhitePages Mailer on any mobile device to access mailing addresses for Facebook friends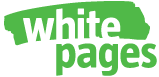 SEATTLE, WA -- (Marketwire) -- 11/14/12 -- According to a recent online Harris Interactive Study commissioned by WhitePages in October 2012, only 12 percent of Americans who use Facebook list their complete mailing address information within their profile, making it next to impossible to use Facebook as a starting place to organize holiday and other friend mailing lists. To help fill this void just in time for the holiday card season, WhitePages (www.whitepages.com) today announced the launch of WhitePages Mailer, a new free solution that seamlessly connects Facebook to WhitePages' comprehensive database of 200 million people to quickly compile addresses for most Facebook "friends." Using Mailer, addresses for Facebook friends can be easily exported into a spreadsheet or printed on Avery mailing labels to be used for holiday cards, invitations, announcements, thank you cards and more and are immediately accessible anywhere through the Facebook App Center and via the web or on any mobile device at whitepages.com/mailer.

"While Facebook is perhaps the best iteration of the modern day rolodex, contact information like home addresses are noticeably absent from user profiles," said Jason Milstead, general manager, WhitePages. "WhitePages Mailer combines the reach of Facebook with the power of WhitePages' people data to create a product that accelerates the painstaking process of collecting addresses for friends when you need to send them a card, gift or to simply get directions to their homes."

Personal Touch Still Matters, But Addresses Are Hard to Compile and Organize
According to the survey results, more than 80 percent of Americans prefer the personal touch of sending traditional communications like holiday cards, birthday cards, wedding invitations and thank you cards through the mail, which helps explain why more than seven billion invitations, announcements and cards are mailed annually according to the American Greeting Card Association. However, compiling addresses for friends, colleagues and family members can be a tedious process that usually involves a number of retrieval methods that according to the survey includes phone calls, emails, text messages, and social network posts among other methods. The study also found that once these addresses are retrieved, people tend to store them in many different places -- the majority on phones, in paper address books and in email accounts -- which can make retrieval difficult, especially when trying to mail multiple items.