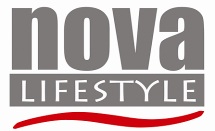 COMMERCE, CA -- (Marketwire) -- 11/14/12 -- Nova LifeStyle, Inc. (OTCQB: STVS) (OTCBB: STVS) (website: www.novalifestyle.com), a rapidly growing U.S. based designer, manufacturer and global distributor of urban contemporary furniture, today announced another quarter of record sales in its third quarter ended September 30, 2012. Sales grew 72% to $19.20 million, up from $11.19 million in the same period last year. Growth was fueled by strong demand for the Company's products around the world, with triple digit gains achieved in the U.S., and double digit gains in Europe and China. Net income in the 2012 third quarter declined slightly to $1.24 million, from $1.68 million in the year earlier quarter, primarily because keeping pace with strong global demand required utilization of higher cost third party manufacturers.

On a per share basis, earnings in the third quarter of 2012 were $0.07 on 18,709,596 diluted shares compared with $0.10 per share in 2011 on 16,641,815 diluted shares.

Sales Up 76% Through First Nine Months of 2012
The year over year sales gain for the nine month period ended September 30, 2012 was 76%. Sales reached a record $46.35 million, up from $26.08 million in the same period in 2011, reflecting year to date quarter by quarter sequential sales gains. Net income in the first nine months of 2012 grew 12% to $3.65 million, or $0.20 per share on 18,652,892 diluted shares from $3.27 million, or $0.24 per share, on 13,522,150 diluted shares in the 2011 period.

The Company noted that the increase in diluted shares outstanding in the three month and nine month periods in 2012 was primarily a consequence of two successful private placements in late 2011 and early 2012 which netted the Company a combined $5.61 million to finance growth.

Gains Achieved Globally

Sales in North America of the Company's Diamond Sofa brand urban contemporary furniture grew 110% year over year in the 2012 third quarter, reaching $7.82 million, as it continued to add new "top 100" furniture retailers and distributors to its customer base. Despite a decision to temporarily maintain marketing efforts in Europe rather than increase them, European sales in the quarter were up 85% to $4.87 million. Overall sales in China during the 2012 third quarter increased 83% to $5.07 million including wholesalers, agents and branded sales to the Company's 100+ domestic franchise stores. Sales to other Asian countries also continued to grow in the quarter reaching $1.26 million.

Gross Margin Target Remains 30%

While gross profit grew 20% to $3.83 million in the 2012 third quarter, gross profit margin declined to 20% from a year earlier 29% for the reasons noted above. Additionally, the Company cited costs for raw material and labor in China, and costs in connection with building a new factory in Dongguan. Nevertheless, it believes that gross profit margins will stabilize at about 30% in the future for several reasons. First, the Company's new factory is now in a test phase with most construction completed. Second, recent inflation figures in China indicate that inflation has begun to moderate. Further, accompanying the sales volume increase of 22% in the 2012 third quarter was an increase in average selling price of 54%. Going forward, the Company is focused as well on increasing the percentage of higher margin products in its sales mix. A particular focus will be on increased direct sales to consumers at its growing franchise units in China as well as on increased Internet sales following the recent establishment of its Internet infrastructure in China. The Company also has seen steady quarter over quarter improvements in inventory turnover, as well as in accounts receivable collections which it expects will continue.