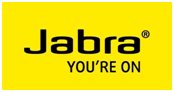 IRVINE, CA and NASHUA, NH -- (Marketwire) -- 11/13/12 -- Toshiba America Information Systems Inc., Telecommunication Systems Division (Toshiba -- www.telecom.toshiba.com) and Jabra, a world leader in innovative headset solutions, today announced the certification of interoperability of the Jabra GO 6470 hands-free headset with Toshiba's SoftIPT® softphone and desk phones that work with Toshiba's IPedge® and Strata® CIX™ IP business telephone systems. Additionally, the Jabra GO 9470 is compatible with Toshiba's VIPedge™ cloud-based business telephone solutions.

The Jabra GO 6470 can connect to three devices -- desk, mobile and softphones -- at the same time, enabling the use of one headset for all calls. A professional headset designed with mobile workers in mind, the GO 6470's Bluetooth® wireless technology allows users to easily take the headset on the road and connect it to a mobile phone when traveling for business. The Jabra GO 6470 is part of the Jabra GO 6400 Series and features high-quality sound, Noise Blackout™ technology and three wearing styles for greater comfort.

"This certification further exemplifies our commitment to ensuring that our products are interoperable with Toshiba's SoftIPT softphone, desk phones and unified communications offerings," said Pete Fox, president, Jabra North America. "As more and more workers migrate towards multiple forms of UC voice communication, the GO 6470 meets those demands and comes fully equipped with multiuse technology and an easy-to-use touch screen experience."

"We are pleased to expand our relationship with JABRA. The new certification of Jabra GO 6470 headset ensures our customers that it is compatible and well integrated with Toshiba's IPedge, VIPedge and Strata CIX business telephone systems as well as Toshiba's desk telephones and softphone products," said Brian Metherell, vice president and general manager of Toshiba America Information Systems Inc., Telecommunication Systems Division.