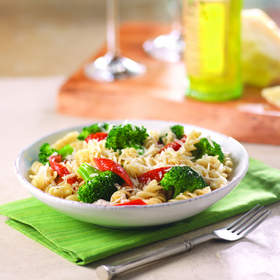 Broccoli with Fusilli and Red Pepper


MISSION, KS -- (Marketwire) -- 11/13/12 -- (Family Features) If you're looking for delicious ways to bring more nutrition to the family table, it's hard to beat broccoli. Broccoli is on most top 10 lists of superfoods, and packs a lot of nutrients in each bite.

"Easily incorporated into a variety of dishes, broccoli offers a great way for busy families to eat healthy on a daily basis," said Rachel Brandeis, registered dietitian.

For an extra nutrient boost, try these recipes made with Eat Smart Beneforté broccoli. Brandeis said, "Beneforté broccoli provides more phytonutrient glucoraphanin, which naturally strengthens your antioxidant enzyme levels to help maintain the antioxidant activity of vitamins A, C and E in your body. These vitamins protect your body from potentially damaging free radicals and environmental stresses."

Beneforté broccoli is available in the packaged produce section of grocery stores. Find out more at www.EatSmartBeneforte.com.



Broccoli Stir-FryServes: 41       teaspoon vegetable oil2       shallots, peeled and thinly sliced4       garlic cloves, peeled and thinly sliced1       cup assorted Asian mushrooms (maitake, white buna-shimeji, enoki,        yellow foot, shiitake)1/2     head Napa cabbage, shredded1 1/2   cups of Eat Smart Beneforté broccoli florets1 1/2   cups snow peas1       red bell pepper, chopped        Sea salt and fresh ground pepper to taste        Sprouts for garnish
Heat large sauté pan with oil over medium high heat.
Cook shallots until translucent, about 2 minutes, add garlic. Cook for 1 minute.
Add mushrooms and cook until liquid dissolves, about 5 minutes.
Add cabbage, broccoli, snow peas and bell pepper; cook for 3 minutes. Top with sprouts. Serve immediately.
Broccoli with Fusilli and Red PepperServes: 6 to 81 1/2   cups of Eat Smart Beneforté broccoli florets3       teaspoons salt, divided1/2     pound fusilli pasta4       tablespoons extra virgin olive oil1       red bell pepper, seeded and sliced into long thin strips1/2     teaspoon garlic powder1       lemon zest1/8     teaspoon red pepper flakes1/2     teaspoon freshly ground black pepper2 1/2   tablespoons freshly squeezed lemon juice        Freshly grated Parmesan (optional)
Cook broccoli for 3 minutes in a large pot of boiling water with 1 teaspoon salt. Remove from water with slotted spoon. Place in large bowl and set aside.
In same water, cook pasta according to package directions, about 10 minutes. Drain well and add to broccoli.
While pasta is cooking, in small sauté pan, heat oil and cook sliced red pepper, garlic and lemon zest over medium-low heat for 3 minutes.
Off heat, add 2 teaspoons salt, red pepper flakes, pepper and lemon juice. Mix and pour this over broccoli and pasta. Toss well.
Season to taste, sprinkle with cheese (if using), and serve.