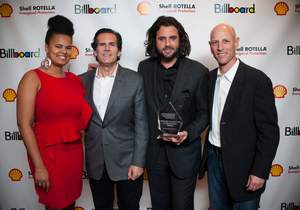 (L-R): Shannon Simpson, MediaCom ESP; Bruce Eskowitz, Red Light Management; Morgan Buksbaum, MediaCom ESP; Kevin Gelbard, Creative Artists Agency



NEW YORK, NY -- (Marketwire) -- 11/12/12 -- Pennzoil and Tim McGraw's recent partnership was recognized with Billboard's Concert Marketing & Promotion Award on Thursday, Nov. 8 at the music industry magazine's Touring Conference & Awards in New York City. The motor oil brand and the Grammy Award-winning artist joined forces in 2012 as part of the "Long Love Cars" campaign and sponsorship of the Brothers of the Sun tour, an effort planned and activated by global media agency MediaCom. The music program strategy and talent and tour sponsorship negotiations were led by MediaCom's Entertainment and Sports Partnership (ESP) division.

The Billboard Concert Marketing & Promotion Award is given to a sponsorship or promotion that benefited the concert industry at large by stimulating attendance to live events, providing value to fans, and promoting the artist and brands involved. The sponsorship or promotion must achieve its marketing goal in a quantifiable way, and pertain to live performances that took place between January and September of this year. The winner was determined by a voting panel of Billboard editors and industry experts. Other nominees for the 2012 Concert Marketing & Promotion Award included Madonna and Smirnoff, Zac Brown Band and Jack Daniel's, and Lady Antebellum and Lipton.

"For a brand that has never played in the concert space before, receiving the Billboard Concert Marketing & Promotion Award is not only an honor, but also signals the successful culmination of an amazing year for all of us involved," said Aimee Cronfel, Pennzoil North American Marketing Manager. "The success we had throughout this concert season wouldn't have been possible without the help of MediaCom and Tim and his entire team."

The "Long Love Cars" campaign, conceived by creative agency Doner, focused on common themes associated with automotive passion, including music and freedom. The music platform was a truly 360 degrees effort by MediaCom and Pennzoil's integrated agency teams across paid, owned, and earned marketing channels. The campaign used a variety of program extensions to leverage content across multiple channels, including advertising, custom media, tour sponsorship, retail promotions, public relations, and social media with the key goal of building a deeper emotional connection with drivers and fans.

"Tour sponsorships have evolved into robust marketing platforms for brands," said Morgan Buksbaum, Vice President of Entertainment & Sports Partnerships at MediaCom. "In working with Tim's team and the integrated agency partners, we were able to fire on all cylinders to link and leverage assets across channels beyond the tour itself, which is ultimately why this program was so successful."