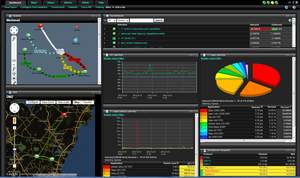 Scrutinizer V10 dashboard allows for easy-to-view traffic patterns for in-depth bandwidth monitoring capabilities.


SANFORD, ME -- (Marketwire) -- 11/01/12 -- Plixer International, a leading provider of NetFlow-based network traffic reporting and threat detection technology, today put real-time user monitoring on full display with the launch of Plixer Scrutinizer™ V10. The enhanced Scrutinizer version now has the ability to push flow collection rates above 100,000 flows per second and correlate the data into easy-to-view traffic patterns for in-depth bandwidth monitoring capabilities.

Scrutinizer is the foundation of Plixer's flow and security log analysis and reporting architecture. Available as a physical/virtual appliance or Windows download, Scrutinizer performs seamless collection and reporting of NetFlow, IPFIX, sFlow and related technologies. The offering then delivers real-time, situational awareness into all applications and their historical behaviors on the network to improve performance and alert IT personnel to potential security threats.

Additional features include:

•Extended Mapping Functionality - Allowing for multiple connections from the same device, animated links and new dependencies.

•New Report Designer - Permits any machine-generated message -- including syslogs, traps and Microsoft event logs -- to be imported into Scrutinizer for correlation, threat pattern matching and reporting.

•Simplified Configuration - To easily monitor unwanted traffic patterns, such as mail traffic not involving the local mail server or DNS traffic to hosts other than local DNS servers.

•Website Identification - Identify users interacting with Facebook, Words with Friends and other bandwidth-consuming sites.

"When we first announced Scrutinizer, our goal was to create the market's most reliable network traffic monitoring and analysis system," said Michael Patterson, Product Manager, Co-Founder, Plixer International, Inc. "Scrutinizer V10 takes this vision even further with advanced collection, mapping and reporting -- making it by far, the most reliable, accurate, and business-relevant NetFlow analysis solution on the market today."

In addition, Plixer will also showcase the product's seamless integration with Enterasys Mobile IAM at GTEC 2012. In a joint NetFlow showdown, the two companies are offering real-time NetFlow traffic monitoring by aggregating and running a replay of the network traffic through Enterasys Mobile IAM. Simultaneously, Scrutinizer's enhanced reporting will identify users' IP addresses and spotlight individuals consuming the most bandwidth -- a common business disruption.