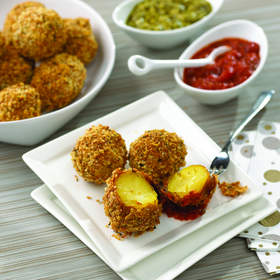 Parmesan Panko Potato Balls


MISSION, KS -- (Marketwire) -- 11/01/12 -- (Family Features) Surprise and delight your guests this holiday season with unexpected morsels of indulgence on the hors d'oeuvres tray. Elegant, savory, flavorful...potatoes.

Parmesan Panko Potato Balls and Mini Scalloped Potato Cups are petite-sized twists on traditional potato dishes that will have your crowd clamoring for more. You'll appreciate the magic of the season even more when you discover these sophisticated appetizers don't require any fancy footwork in the kitchen.

Consider entertaining with these inspired dishes your personal gift of well-being, because potatoes are packed with nutrition. Just a single, skin-on medium-sized potato (5.3 ounces) has just 110 calories, more potassium than a banana, and almost half your daily value of vitamin C (45 percent), with zero fat, sodium or cholesterol.

For more holiday potato meals, visit www.potatogoodness.com to search the comprehensive potato recipe database.

Parmesan Panko Potato Balls
Prep time: 30 minutes
Cook time: 35 to 40 minutes
Makes: 8 appetizer servings



2/3 cup panko breadcrumbs2/3 cup freshly grated Parmesan cheese1 tablespoon Italian herb seasoning1 1/2 teaspoons garlic salt1/8 teaspoon crushed red pepper1/2 cup flour2 eggs, beaten1 1/2 pounds very small yellow potatoes Olive oil cooking spray Warm marinara sauce or pesto
Preheat oven to 400 degrees F and line baking sheet with foil.
Stir together bread crumbs, cheese, herbs, garlic salt and crushed red pepper in small bowl. Place flour and eggs in 2 additional small bowls.
Place potatoes on prepared baking sheet; spray liberally with olive oil spray. Roll each in flour, then egg, then bread crumb mixture, making sure to coat potatoes well with each step.
Place back on baking sheet; spray again with olive oil spray. Bake for 35 to 40 minutes, or until potatoes are lightly browned and tender when pierced with a fork, coating with olive oil spray twice during cooking.
Serve with marinara sauce or pesto.
Mini Scalloped Potato Cups

Prep time: 20 minutes
Cook time: 45 minutes total
Makes: 12 appetizer servings
1 pound russet potatoes, peeled and thinly sliced2 tablespoons butter2 tablespoons flour1 cup chicken stock1 cup fat-free half and half1 cup shredded Jarlsberg or Swiss cheese1/4 cup each: sharp cheddar and smoked Gruyere cheese1/2 cup 1/4-inch diced red bell pepper1/4 cup real bacon bits or pieces1 tablespoon stone ground mustard1/2 teaspoon garlic salt1/4 teaspoon dried dill Freshly ground pepper to taste
Preheat oven to 350 degrees F. Spray 12 small ramekins with nonstick cooking spray.
Place potatoes in a microwave-safe bowl; cover and microwave on HIGH for 6 minutes, or until potatoes are tender.
Meanwhile, melt butter in a medium saucepan over medium heat. Stir in flour; cook for 1 minute more. Slowly stir in half and half, cooking until mixture is smooth. Add cheeses, a little at a time, then stir in remaining ingredients.
Spoon into prepared ramekins; bake for 30 minutes, or until lightly browned and bubbly.
About Family Features Editorial Syndicate

This and other food and lifestyle content can be found at
www.editors.familyfeatures.com
. Family Features is a leading provider of free food and lifestyle content for use in print and online publications. Register with no obligation to access a variety of formatted and unformatted features, accompanying photos, and automatically updating Web content solutions.
Image Available:
http://www2.marketwire.com/mw/frame_mw?attachid=2112504
Add to Digg
Bookmark with del.icio.us
Add to Newsvine


Matthew Barksdale
mbarksdale@familyfeatures.com
1-888-824-3337
http://editors.familyfeatures.com