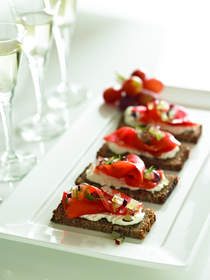 Smoked Salmon Appetizers with Grapes


MISSION, KS -- (Marketwire) -- 11/01/12 -- (Family Features) Buffets are a great way to provide party fare for a festive holiday gathering. These beautiful and enticing self-serve recipes get fresh flavor and color with grapes from California.

Green, red and black grapes from California are still in-season during the holidays, so fresh grapes can be your "go-to" ingredient as an everyday treat, or in party foods like these.

Smoked Salmon Appetizers with Grapes -- These elegant, open-faced sandwiches show how grapes complement the flavors of smoked fish and cream cheese with their refreshing tang -- a balance of sweetness and acidity that is key to the grape's versatility. The chopped grape garnish provides another color accent to these beautiful bites.

Pickled Grapes -- Currently all the rage on "little plates" in fine and casual restaurants, they can provide that "wow" moment at your table, too. These easy-to-make accompaniments are perfect with bread, crackers, cheeses and sliced meats.

Grape Rosemary Martini -- To create made-to-order craft cocktails like this, you may need to employ a barkeep of some sort. Whether that's one of the hosts, a volunteer among the guests or someone you hire, you'll be pleased with the green-hued, aromatic and spirited results. The drink works equally well without vodka, too.

Grape Salad with Feta and Olives -- A green salad is always welcome at a holiday feast. The inclusion of grapes in this Greek-inspired salad balances the peppery arugula and salty olives, while also enhancing the flavor of the mint.

For more grape snack and recipe ideas, visit www.grapesfromcalifornia.com, or www.facebook.com/GrapesFromCalifornia.

Set Your Table with Grapes for Heart Health
Grapes may be the perfect finish to a heavy holiday meal high in fat. In a small study of healthy adult males conducted at Ohio State University and supported by the California Table Grape Commission, grapes consumed along with a high-fat meal helped prevent the reduced blood flow typically observed with a high fat meal. Grape consumption also helped improve the function of blood vessels and increased the presence of antioxidants in the body.



Smoked Salmon Appetizers with GrapesMakes 16 appetizers1      cup finely diced red and green seedless California grapes1      tablespoon chopped fresh dill2      teaspoons rice vinegar1      teaspoon sugar       Pinch salt4      tablespoons low fat cream cheese4      slices (roughly 3 x 5 inches) Danish-style rye bread, each cut       crosswise into 4 pieces2      ounces thinly sliced smoked salmon
In small bowl, combine grapes, dill, vinegar, sugar and salt.
Spread cream cheese on bread slices and top with pieces of salmon. Drizzle with the grape relish and serve.