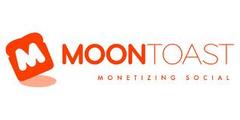 BOSTON, MA -- (Marketwire) -- 10/09/12 -- To accommodate continued and rapid growth, Moontoast, a leading social marketing, social commerce and analytics company, today announced that it has relocated its headquarters to 4 South Market in Boston's Faneuil Hall neighborhood. The company also expanded its executive team with two new hires, Anand Raman and Ryan Burke. Anand joins as Vice President, Business Development and Ryan has been named Vice President, Sales.

The new space, which more than doubled its former location, will accommodate the company's growing business, customer base and staffing and allow the company to further expand sales and support. The lease was brokered by Peter N. Trivelas of DTZ, a UGL company.

Anand joins Moontoast from inStream Media where he was Vice President of Digital Programs. Before inStream Media, Anand was co-founder and CEO at eXtendMobility, Inc. Before that, he held senior roles at Azuki Systems, Acceller and GCI. Ryan was previously the Senior Vice President of Sales at Compete, Inc. Prior to Compete, Ryan worked at digital strategy consulting firm Mainspring, where he helped to build the Media and Communications Practice. Before that, Ryan was an analyst for Goldman Sachs.