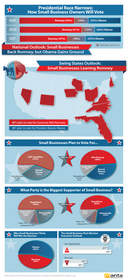 COLUMBUS, OH -- (Marketwire) -- 10/09/12 -- With only weeks left until the election, 47 percent of small business owners say they plan to vote for Governor Mitt Romney -- down 14 percent since August. It seems the small business community vote may be changing course as 35 percent back President Barack Obama -- up nine percent since August, according to a new survey by Manta, the largest online community dedicated entirely to small business.

Voters from highly influential swing states also play an important role in this year's presidential election. Manta's latest survey reveals that small business owners in those key states -- Colorado, Florida, Iowa, Nevada, New Hampshire, North Carolina, Ohio, Virginia and Wisconsin -- are still leaning Republican. 48 percent say they plan to vote for Romney. However, Obama is making up ground with these voters, as 38 percent currently plan to vote for him -- a six percent increase since May.

Interestingly, even though nearly half of small business owners in key swing states say they plan to vote for Romney, 56 percent believe Obama will win the election. Additionally, 41 percent feel Obama is more in touch with the average American. That said, 35 percent feel Romney falls in that category and 23 percent feel neither candidate does.

"With one presidential debate complete and two more to go, it is essential that Romney and Obama address the needs of the small business community. Small business owners are passionate about their future as the vast majority (68 percent) we polled thinks small business is a bigger issue in this year's election," said Pamela Springer, CEO of Manta. "Small business owners have been clamoring for their voices to be heard during this election, and it's well past time for the candidates to provide concrete plans about the issues SMBs have consistently cared about this year -- healthcare, tax policies and access to credit."

Manta released the survey findings today as part of the latest Manta SMB Wellness Index, a quarterly index that highlights key insights on small business hot topics and examines new small business activity. Manta's data shows new business activity fell 10 percent in the third quarter of 2012, compared to the same time last year. The index looks at multiple business resources nationwide and takes the "pulse" of small business owners on hot topics.

Overall, small business owners are the most positive about the post-election economic outlook for their business they've been since the beginning of the year. 67 percent are optimistic -- up nearly 10 percent since August and up 14 percent since January. However, even with growing optimism, nearly one-third of small business owners said their business has experienced losses and isn't better off than it was four years ago. Moreover, 80 percent of small businesses polled said they did not hire any employees this past quarter.

"We've had to push through a tough few years and it's time for things to turn around for us and every American. I'm voting for President Obama because he clearly can relate far more to average Americans than Mitt Romney. My business has really started to see growth in the past year and I'm confident it will continue to grow with Obama in office another four years," said Anne Landman of Colorado-based ThoughtOnBoard, a company that makes dry erase boards that stick to windows facing outward. "Even without knowing what lies ahead for my business, Manta can provide a valuable resource to help me grow."