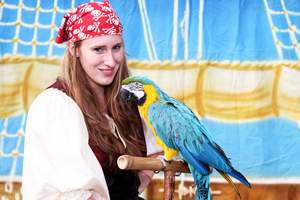 The Amelia Island resort's location, on a barrier island off Florida's Northeastern coast, serves as the ideal spot for a team-building scavenger hunt.


AMELIA ISLAND, FL -- (Marketwire) -- 10/04/12 -- The Ritz-Carlton, Amelia Island builds on its reputation as Northeast Florida's premier meeting destination with the launch of a unique series of group activities designed to challenge and inspire individual participants, while fostering camaraderie and team building.

The Amelia Island resort takes advantage of its idyllic oceanfront location to offer outdoor adventures on the sand and surf, as well as indoor luxury. With easy access to a quaint and authentic Victorian seaport village, a Civil War-era fortress with nature trails winding through lush forests and coastal sand dunes, the luxury hotel provides meeting planners with many inspiring off-site options.

When it is time to work or play inside, The Ritz-Carlton, Amelia Island engages guests with legendary service, fine dining and its unique ability to customize a meaningful experience that is personal to each group. The Jacksonville area hotel recently completed a multi-million dollar investment in new meeting space, ballroom, spa, restaurants and reimaging its 446 guest rooms -- including three specialty suites, with fresh, new coastal décor and balconies with floor-to-ceiling glass doorways. All rooms feature a dramatic coastal view.

Among the group experiences:

•Scavenger Hunt - By Land and Sea. The Amelia Island resort's location, on a barrier island off Florida's Northeastern coast, serves as the ideal spot for a team-building scavenger hunt. What's unique? It is a land and sea adventure! Groups split into teams, receive challenge packs and take a trolley tour to explore the history of Amelia Island, including its historic downtown rich with pirate history and lively boutiques, antique shops and restaurants all surrounded by blocks of elegant Victorian homes. Teams then proceed to the marina to board speedboats where they will explore the Intracoastal Waterway, passing Cumberland Island where wild horses play, and historic Fort Clinch, an imposing and impressive Civil War-era fort.

•The Beach Meets Beekeeping. Meet the luxury hotel's 95,000 bees under the watchful eye of its professional beekeeper. Groups receive an up-close demonstration on how to care for a hive, nurture production and harvest honey. Nominate a team member to suit up for the collection. Afterwards, bring the sweet bounty to the kitchen where the hotel's pastry chef will create a personalized tasting just for you.

•Spice Things Up - Make Your Own Salt. Have your group learn how to infuse and flavor salt. The award-winning chef from the resort's Five Diamond restaurant Salt will oversee the experience with a focused culinary demonstration, and he may select some herbs from the hotel garden. Next, it's your group's turn to spice things up. With instructions in hand, participants break into teams to create a unique blend of salt, decide on a name, and develop a description. In this competition there is more than pride at stake. The winning team will have its salt creation featured on the restaurant's menu for one week. All participants receive samples to take home.

•Saddle Up or Paddle Up. Corral your team for a horseback ride on the beach. Amelia Island is one of only a handful of places in the United States where this exhilarating activity is permitted. Or try one of the fastest-growing water sports in the nation: paddle boarding. Stand up paddle boarding calls for balancing on a large board and moving across the water with the help of a long-handled paddle. Is your group up for a friendly race in a beach team building competition?

•Heaven in a Hammock. Even when your group is at rest, there is still an opportunity to do something special. Heaven in a Hammock is a unique massage treatment that combines zero gravity weightlessness with the gentle rocking of a hammock. The best part? There is no need to leave your poolside or beachfront perch. The Spa will come to you with a variety of services. If you prefer, enjoy The Spa for private treatments, including a special sports massage for meeting guests looking to relieve sore muscles after golf, tennis, ocean kayaking and team competition.