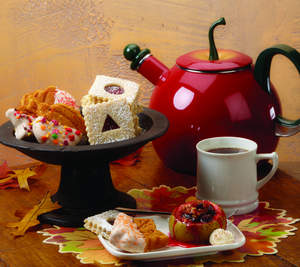 Apple Hazelnut Linzer Cookies, Harvest Sweet Potato Cakes and Cinnamon Glazed Apples with tea kettle


MISSION, KS -- (Marketwire) -- 10/04/12 -- (Family Features) Looking for a new way to entertain this year? Try a tea party. This seasonal soirée from the celebration experts at Wilton is casual, colorful and delicious.

First, the tea. Every tea enthusiast knows that a great brew starts with fresh, cold, high-quality water -- filtered or bottled is preferred over tap water. Using a tea kettle, like Copco's Red Delicious Apple Tea Kettle -- complete with a playful design and bright harvest colors -- is the best way to heat water to the correct temperature. The kettle's plug-in harmonic whistle lets you know when water is just boiling. Offer a selection of tea bags to easily display a variety of unique flavors. Include a classic like Earl Grey alongside several choices with citrus, fruit or floral notes.

Next, the sweets. This trio of ideas from the Wilton Test Kitchen features favorite fall flavors that pair perfectly with a cup of tea -- whether it's tea for two or quite a few.

•Apple Hazelnut Linzer Cookies -- delicate and buttery with a hint of nutmeg -- are sandwiched together with apple butter. They practically melt in your mouth. •Harvest Sweet Potato Cakes are spicy-sweet, moist little cakes that will stand out at any party. Use the Wilton Harvest Whoopie Pie Pan to make the fun fall shapes that are Candy Melt candy-dipped, then decorated with sprinkles and sugars. •Cinnamon Glazed Apples just might be the unexpected show-stopper. Granny Smith apples stuffed with walnuts and raisins are basted with a mixture of melted red cinnamon candies and apple juice as they bake. A tangy piping of cream cheese is just the right balance for the sweet-hot apples -- ideal for an afternoon tea party.

For more seasonal project ideas, recipes and additional information on Copco and Wilton Enterprises, visit www.copco.com and www.wilton.com.



Apple Hazelnut Linzer Cookies2      cups all-purpose flour2/3    cup finely ground hazelnuts (about 2 oz.)1/4    teaspoon ground nutmeg1/4    teaspoon salt1      cup (2 sticks) butter, softened2/3    cup granulated sugar1      egg1/2    teaspoon pure vanilla extract1/2    cup apple butter       Red Icing Color, optional       Confectioners' sugar, optional
In small bowl, combine flour, hazelnuts, nutmeg and salt; set aside. In large bowl, beat butter and sugar with electric mixer until light and fluffy. Add egg and vanilla; mix well. Add flour mixture; mix only until combined. Form dough into 2 disks, about 1 in. thick; wrap in plastic wrap. Refrigerate 2 hours or until firm enough to roll.
Preheat oven to 350 degrees F. Line two cookie sheets with parchment paper.
On floured surface, roll out dough 1/8-in. thick (keep dough in refrigerator until ready to roll). Using square Linzer Cutter, cut half of the dough with 3-in. cutter and place on prepared pan. Cut remaining dough with 3-in. cutter with insert; transfer to second baking sheet. Form scraps into a disk, chill at least 30 minutes and reroll.