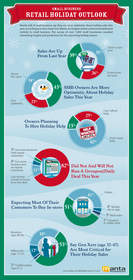 COLUMBUS, OH -- (Marketwire) -- 10/30/12 -- The National Retail Federation is predicting a small increase of 4.1 percent in holiday sales this year. And according to a new survey from Manta, the largest online community dedicated entirely to small business, 43 percent of small business owners are more optimistic about holiday sales this year versus 2011. While 51 percent of those surveyed expect customers to buy directly from the store this holiday season, 41 percent anticipate the majority of their sales to come from online orders -- a 10 percent increase from last year's results.

"The holiday season can bring both immense pressure and great rewards to local small business owners, so this is the most critical time for them to leverage online tools and the vast expertise of other business owners," said Pamela Springer, CEO of Manta. "We're pleased to see many of the small businesses in our community gaining awareness about how their online actions impact their business -- from their online presence on sites like Manta, to selling goods and running promotions online -- and sharing their best practices and advice with other business owners."

"We're expecting the holidays to be busier than ever this year and I plan to use a small arsenal of online tools that I trust and that I know work for my business," said Norman Linton, Owner of Kentucky-based Tees N Textiles LLC, a custom screen printed apparel company. "My website and online store serve as the foundation of my efforts, Manta is the tool I use to turn interested parties into loyal customers, and posting about in-store promotions on Facebook helps me increase foot traffic into my shop."

As small businesses predict online sales to increase this year, they are being selective when it comes to the online tools and methods they will adopt this holiday season. For example, the majority (82 percent) of small businesses have not, and will not, run promotions with Groupon or other "daily deal" sites this year. In fact, only 3 percent of respondents said these types of promotion sites have brought them repeat business.

Many small businesses run online stores or promotions through sites like Etsy and Facebook and are critical of the level of support they do or don't receive from such sites. Surprisingly, nearly half (47 percent) of small businesses perceive Etsy, the handmade marketplace that caters to hundreds of thousands of very small retailers, as the brand that is the most unsupportive of small businesses. While the value of using Facebook was questioned by small businesses in a Manta survey this fall, 29 percent of those polled perceive Facebook to be the brand that is the most supportive of the SMB community. The other brands in question include eBay, Amazon and Groupon -- about 40 percent of small business owners perceive each of those companies as unsupportive.