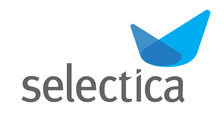 SAN MATEO, CA -- (Marketwire) -- 10/25/12 -- Selectica, Inc. (NASDAQ: SLTC), provider of software that accelerates sales cycles and streamlines contract processes, today announced financial results for its second quarter of fiscal 2013, ended September 30, 2012.

"I'm pleased with our accelerated revenue growth; we are now outpacing the market," said Jason Stern, President and CEO at Selectica. "And while revenue was up, we were also able to keep expenses flat for the third successive quarter, leading to a non-GAAP net loss of less than $250,000."

The company's net loss on a GAAP basis was $0.9 million in Q2 FY2013, down 57% compared to Q2 FY2012.

Financial highlights

Selectica delivered the following financial results for the second quarter of fiscal 2013:

•Recurring revenue: Selectica grew recurring revenue from $2.2 million in Q2 FY 2012 to $3.0 million in Q2 FY2013, a year-over-year increase of 36%. Recurring revenue in Q1 FY2013 was $2.6 million.

•Billings: Billings for Q2 FY2013 were $3.8 million, compared to $3.0 million in Q2 FY2012, a 27% increase year-over-year. Billings were $4.1 million in Q1 FY2013. The company defines billings, a non-GAAP financial measure, as revenue recognized during the period plus the change in deferred revenue from the beginning to the end of the period. Please refer to the financial tables below for a reconciliation of this non-GAAP measure to GAAP.

•Deferred revenue: In Q2 FY2013, the company had deferred revenue of $5.8 million, a 76% year-over-year increase over Q2 FY2012, when deferred revenue was $3.3 million. In Q1 FY2013, deferred revenue was $6.7 million.



Business highlights
Business highlights from Q2 FY2013 include:

•Seventh patent issued for Selectica sales configuration technology: Selectica announced its newest patent for the declarative constraint engine that powers Selectica Guided Selling and enables customers to use dynamic, rather than static, components to configure products and services with a large number of options and possible solutions. •Recognized as an important participant in cloud computing: In JMP Securities' September 24, 2012, report on salesforce.com, titled "CRM: JMP Visits 10 Growth Companies at Dreamforce," Selectica was featured as one of the growth companies in the salesforce.com partner ecosystem. •New version of Selectica Contract Lifecycle Management (CLM): In July 2012, Selectica released the latest version of its flagship contract lifecycle management (CLM) product, featuring Contract Blueprints, a set of pre-configured, best-practice contract types that enable users to get started with contract management quickly. The release also offered improvements in the product's Microsoft Word integration, eSignature, and audit trail capabilities. •Introduction of Selectica Guided Selling for Salesforce on the Salesforce AppExchange: Also in July, Selectica announced availability of its configure-price-quote (CPQ) offering Selectica Guided Selling for Salesforce on the Salesforce AppExchange. The application brings the proven benefits of Selectica sales configuration technology to the cloud and makes them available to organizations with revenues of $100 million to several billion dollars. •Bronze Stevie award winner: Selectica Guided Selling received a Bronze Stevie Award in the "Best New Software Product or Service of the Year, Cloud Application or Service" category of the 10th Annual American Business Awards.