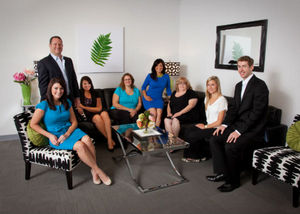 Richmond Aesthetic Surgery Staff


RICHMOND, VA -- (Marketwire) -- 10/25/12 -- Drs. Neil Zemmel and Matthew Stanwix have announced the release of a new website for their center for plastic surgery in Richmond. The fully customized, user-friendly design was developed to showcase the doctors' commitment to patient care and enrich users' online experience. The site is composed of elaborate drop-down navigational tabs, enabling users to easily access information about their desired plastic surgery procedure. The doctors are hopeful the launch of the new site will help strengthen doctor-patient relationships and serve as a reliable resource for patients.

At their practice, Drs. Zemmel and Stanwix perform a number of procedures, including breast augmentation, facelift surgery, rhinoplasty, liposuction and BOTOX® Cosmetic. Dr. Zemmel says the new website allows patients to locate information about a number of procedures in just one click. He adds that the testimonials page, before-and-after gallery and links to social media profiles help encourage patients to interact with others and get a better idea about which procedures are best suited for their aesthetic needs.

Dr. Zemmel says each procedural page on the website provides thorough information to answer many frequently asked questions, including patient safety, procedure overview, recovery, expected results and preparation for surgery. He adds that the website covers a full range of reconstructive procedures, including breast reconstruction using implants, soft tissue and DIEP flaps, which the practice has recently introduced to the Richmond community. The board-certified Richmond plastic surgeon says one of the primary purposes of the new website is to assure patients get all their questions answered by providing reliable, up-to-date information about plastic surgery procedures.

Developed in partnership with medical website design firm Rosemont Media, the doctors and their staff are excited about the opportunity to offer an aesthetically pleasing, easy-to-use site that will help illustrate their emphasis on quality patient care. Part of the practice's mission is to provide patients with first-rate surgical and medical care, while following safe and effective treatment procedures. Dr. Zemmel says the practice's philosophy is represented both on the website and in person to exemplify dedication to patients wherever they may be.