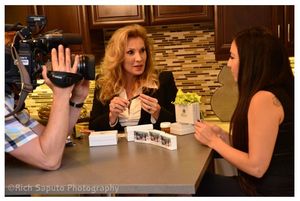 Cheryl Shuman, Rapid Fire Marketing's Company Spokesperson and Public Relations and Product Placement Director on the set of CBS news demonstrating the CANNAcig.


LOS ANGELES, CA and CARSON CITY, NV -- (Marketwire) -- 10/24/12 -- Rapid Fire Marketing (PINKSHEETS: RFMK) announced today that the latest CANNAcig version which will vaporize dried plant material as well as dried blends is going on sale today at TheCANNAcig.com (www.thecannacig.com). Price is $89.95. Version 3.0 of The CANNAcig is on order and will give the user the option of using dried plant material or dried blends as well as an oil option. This new unit is expected to arrive around the middle of November and be available for the Christmas Season at the same price of $89.95.

The Cumulus Vapor Inhaler is a new unit by Rapid Fire Marketing and is expected to arrive by the middle of November as well. Many inquiries have been made about the availability of this unit. The Cumulus will be available in all 50 states as well as internationally. As with the CANNAcig, the Cumulus will allow the user the option of vaporizing dried plant material or dried blends as well as an oil option. Photos and proofs of the new unit will be available soon. The Cumulus brings all the same qualities and capabilities as the CANNAcig and the retail price for the Cumulus Vapor Inhaler will be regularly $99.95 but will be on sale for $89.95 throughout the holiday season.

The CANNAcig is the nation's hottest new fashion accessory and is a small and discreet Portable Vaporizer. Both the CANNAcig and the Cumulus each have exclusive features such as a dual chamber cartridge and atomizer allowing you to choose between your essential oils or dried herbal blends, a rechargeable battery providing up to 72 hours continuous use, a quality heating element, and an ultra rapid 5 second heat up time. The CANNAcig and Cumulus offers both portability and ease of use in one unit. Each unit utilizes a sleek and compact design concept comparable to an e-cig or fountain pen. These vaporizers measure 5 inches in Height and .5 inches in Diameter, conveniently fitting inside your purse or pocket. The CANNAcig is available in black with a red crystal tip and the Cumulus in stainless steel and a blue crystal tip.

Celebrities such as Tommy Chong love the CANNAcig. CBS TV News recently featured the CANNAcig as today's hottest personal vaporizer. The Company's VI technology is controlled by a microprocessor which maintains the correct temperature needed to vaporize oils or plant material depending on the user's preference. No buttons to push, just a simple draw through the CANNAcig activates the heating element and provides the user with an incredibly smooth and enjoyable hit, each and every time.