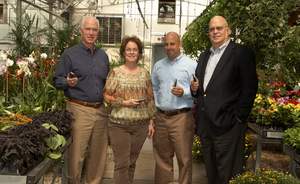 John Baisch and Jim Schaft of Baisch & Skinner, with David Ansehl, Sr. and Dorothy Callier of ATC, appreciate that the Toshiba business Telephone system delivers reliability, cuts costs and helps improve customer service.


IRVINE, CA -- (Marketwire) -- 10/23/12 -- Toshiba America Information Systems Inc., Telecommunication Systems Division (Toshiba) -- www.telecom.toshiba.com, helped Baisch & Skinner, a leading wholesale floral supplier, connect its employees and customers with Toshiba's Strata® CIX™ IP business telephone systems. Based in St. Louis, Baisch & Skinner's facilities span two city blocks across eight 50-year-old buildings. It also has seven remote locations throughout Missouri, Illinois, Kansas and Arizona.

Baisch & Skinner's IT manager, Jim Schaft, and John Baisch, president, identified the need for a business telephone system that would meet the company's goal of improving customer service. Objectives for the system included:

•Mobility for its entire workforce by using wireless handsets both inside and outside of the buildings so they can look at their floral inventory while they are on the phone with their retail florist customers; •Reliable and durable business telephone systems to support more than 30,000 inbound and outbound calls every week; •Networking between all eight locations, delivering centralized applications including voice mail, auto attendant and remote administration; and •Reduced costs by eliminating long-distance costs between locations and by using SIP trunks.

Authorized Toshiba Dealer Advanced Technology Consultants (ATC) of St. Louis, Mo., installed and provides service and support for the system. David Ansehl, Sr., and Dorothy Callier, senior account rep, both of ATC, recommended Toshiba's Strata CIX system for its reliability. Baisch & Skinner has been a Toshiba user for decades. ATC has been an Authorized Toshiba Dealer since 1993.

Solution: Toshiba's Strata CIX Delivers High Reliability

Installed by ATC, Baisch & Skinner's Toshiba business telephone system consists of:

•One Strata CIX670 business telephone system at the St. Louis headquarters networked to seven remote locations; •One Strata CIX670 and six Strata CIX100 systems at remote locations in Missouri, Illinois, Kansas and Arizona; •Networking between eight locations via Strata Net; •More than 100 ports, utilizing SIP trunks where available; •A mix of IP, digital, and analog endpoints, including more than 100 Polycom SpectraLink 6020 wireless telephones; •"Find-me Follow-me" call routing to forward calls to cell phones; •Network eManager® for remote management of all locations; •Centralized voice mail and auto attendant; and •Unified messaging for select users, which allows them to receive their voice mail via email.