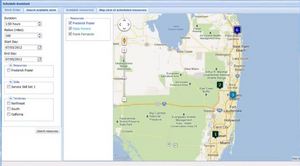 FieldOne Sky, Field Service Management Solution



MAHWAH, NJ -- (Marketwire) -- 10/23/12 -- Committed to minimizing the carbon footprint of field service organizations, FieldOne Systems, a cloud-based field service management solution provider, announced today that Jim Hare, Sr. Vice President, will present "How to Dramatically Reduce Your Carbon Footprint by Automating Your Field Service Operations," at the 35th World Energy Engineering Congress, on October 31st, 3:00-3:20PM, Presentation Area 2. Additionally, the company will be showcasing its on-premise and cloud products, Terra, Sky & SkyMobile, October 31-November 2, 2012, at the Georgia World Congress Center, Atlanta, GA (Booth #711).

FieldOne will utilize this venue to demonstrate its environmentally sound, cloud-based, field service management solutions and automated routing technology service. The new solutions help companies lessen their environmental impact by significantly decreasing gas consumption/service miles traveled, while improving overall customer satisfaction.

On average, an office with 100 field technicians uses nearly two tons of paper per year and according to Recycling.Colorado.edu, every year enough paper is thrown away to make a 12' wall from New York to California. Helping to insert a more green process for field technicians, FieldOne has introduced its Sky & Sky Mobile solutions that offer a new automated routing technology service. The unique routing innovation revolutionizes the dispatching routing algorithm, eliminating many manual processes, reducing wasted scheduling time as well as improving service response and customer satisfaction.

Built for enterprise-level scalability, FieldOne Sky integrates seamlessly with existing CRM or ERP solutions, while its SaaS model allows businesses to avoid complex software installations by delivering instant upgrades directly to the platform. In addition, FieldOne Sky offers optimum security and backup, limitless storage and "always-on" cloud capabilities. Jim Hare, FieldOne Systems' Senior Vice President, will highlight the company's solution that not only helps contribute to ensuring a greener environment, but perhaps more importantly, improves a company's bottom line.