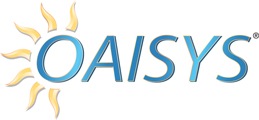 TEMPE, AZ and ESHER, UNITED KINGDOM -- (Marketwire) -- 10/02/12 -- OAISYS®, a leader in business call recording and contact center management solutions, today announced it will be exhibiting the latest enhancements to its Talkument® and Tracer software solutions, including speech search functionality and the Mobile Recall application, at the Convergence Summit South 2012 in Sandown Park, Surrey. OAISYS AllWays, which embodies the complete array of deployment and access options available for its solutions, will also be presented. OAISYS will exhibit its solutions at Stand 41.

The Convergence Summit South brings together voice, mobile and data resellers with the major convergence suppliers and has built a strong reputation for its wide range of exhibitors and respected educational seminar programs.

"Worldwide, businesses of all sizes, from four-seat offices to the largest enterprises, have realized the benefits of OAISYS' call recording and contact center management solutions, and we have developed an ever-growing global network of channel partners," said OAISYS president Brian Spencer. "We continue to make major commitments and investments in the global market and look forward to sharing our latest developments with the UK marketplace."

Engineered to support virtualized deployments and compatible with leading IP business communication systems, including those from Avaya, Mitel, ShoreTel, Toshiba and others, OAISYS' Talkument and Tracer call recording solutions help companies improve customer service, reduce costs, increase revenue and drive overall profitability.

OAISYS solutions address operational needs of businesses everywhere, such as Payment Card Industry Data and Security Standard (PCI DSS) compliance and those of particular interest to businesses in the UK dealing with Financial Services Authority (FSA) guidelines. OAISYS solutions help ensure businesses' call recordings meet PCI DSS and FSA compliance requirements with features such as permissions-based call access, configurable data retention, logs, audit trails, encrypted file-streaming and digital watermarking.

OAISYS speech search functionality, offered in version 7.3 of the Talkument and Tracer solutions and currently available for early adopter field trials, uses advanced phonetics-based technology to query recordings for spoken phrases and return those containing one or more matches. This latest feature further enhances OAISYS support for specific compliance and eDiscovery requirements, enabling more efficient identification and retrieval of desired recordings.