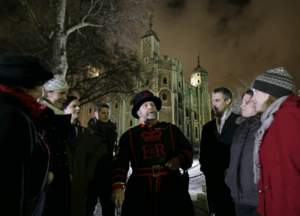 Cheapflights.com.au says to expect things to go bump in the night at the evening tours at the Tower of London.



BRISBANE, AUSTRALIA -- (Marketwire) -- 10/18/12 -- While Halloween is not widely celebrated in Australia, there are some parts of the world that go crazy for creepy places that go bump in the night. So if you need to get your Twilight fix, Cheapflights.com.au has uncovered some wickedly cheap horror-days. The only thing not to be scared of is the price tag, because www.cheapflights.com.au works with more than 300 travel partners to sort and compare the best value deals on the market.

USA
You can't go past America for a massive dose of all things Halloween. Salem in Massachusetts specialises in scaring holidaymakers year round, but October is definitely the spookiest time to visit with scary tours, séance events and a vampires masquerade ball. Cheapflights.com.au has found return flights to Boston, Massachusetts from $1550 including taxes.

Scarier still, spend the night of Halloween at one of the USA's most haunted hotels, The Stanley Hotel in Colorado -- the hotel that inspired Steven King's novel, The Shining. Rooms start from around $180 per night. Add a ghost and history tour for $15 -- or a spine-chilling five-hour ghost hunt at $60 for the ultimate in terror. Cheapflights.com.au has found return flights to Denver, Colorado from $1550 including taxes.

PHILIPPINES
All Saints Day on November 1st is a day of festivities in The Philippines marking the beginning of the Filipino "Araw ng mgba Patay," the celebration of the Day of the Dead. Instead of trick-or-treating, groups of singers, known as pangangaluluwa, dress in scary costumes and go door-to-door to entertain in return for treats. Family reunions are taken to the next level with families gathering in cemeteries alongside the tomb of their dearly-departed for a grave-side spruce-up and a family picnic. Cheapflights.com.au has found return airfares to Manila from $864 including taxes.

PARIS
Halloween and cemeteries go hand-in-hand, so a visit to the world's most popular cemetery, Père Lachaise in Paris, is for true enthusiasts. One million people are buried here with the remains of a further two million stored in the ossuary and columbarium. Since its establishment in 1804, the cemetery has become quite the place for famous people to call home, with permanent residents including Oscar Wilde, Jim Morrison, Jean de La Fontaine, Edith Piaf, Proust and Chopin among many others. Entry to Père Lachaise is free. Cheapflights.com.au has found return flights to Paris from $1304 including taxes.