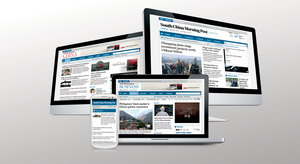 The New SCMP.com Offering



HONG KONG -- (Marketwire) -- 10/15/12 -- Hong Kong's premier English language newspaper, South China Morning Post (HKSE: 0583), announced today that it now offers limited free access to its newly rebuilt and redesigned website, SCMP.com.

The subscriber-only site, SCMP.com, was rebuilt, redesigned and relaunched in late August, with significant improvements to content and functionality. The site will now allow metered access to non-subscribers, enabling each visitor to view four articles for free per month behind the paywall. A further bonus of four more articles per month will be available to visitors who register their email address.

This is a significant change for the site, which has succeeded in maintaining a loyal paid subscriber base since 2002. Many prominent global news sites, including the New York Times and Financial Times, have recently made the reverse transition from free to paid access, employing a meter.

"The most significant impact of this move," said Robin Hu, Chief Executive Officer, SCMP Group, "is that we are now searchable and shareable, which is vital for online news consumers today. Although total access will continue to be paid, now anyone interested in our insightful Hong Kong and China news can find us, click us and try us out. From a business point of view, this opens up a much bigger universe for us."

Unique visitors have grown four times prelaunch levels and pageviews to the paid site have already increased almost threefold since the relaunch. Today's introduction of metered free access is expected to increase pageviews even more dramatically. Enhanced and more frequently updated content, more intuitive navigation, easier social sharing and smarter article links, plus the availability of an optimized mobile edition at m.scmp.com, have all contributed to a richer and more satisfying user experience.

Further content enhancements include a powerful easy to search archive service that gives readers instant access to 10 years' content or 750,000+ articles within the South China Morning Post library. The site also features a unique Homepage time machine, recalling the exact Homepage as it appeared up to seven days before.

Photos play a prominent role in the new site. Aside from a generally more attractive visual presentation and a longer page length, the new SCMP.com features a large-format photo gallery that is updated in real-time and provides themed photojournalistic essays and easy search options. South China Morning Post's award winning infographics will also capitalize on the new SCMP.com's more visual and interactive design capabilities.

Social media plays a stronger role in the new site, which aside from enabling easy share on Facebook, Twitter and Google +, will also introduce a major cast of new bloggers including an exclusive English-language blog from China's number one blogger Han Han, whose irreverent views of China affairs and the youth generation have captivated a huge online following.