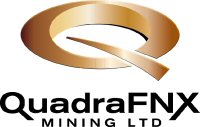 VANCOUVER, CANADA -- (Marketwire) -- 08/31/11 -- Quadra FNX Mining Ltd. (the "Company" or "Quadra FNX") (TSX: QUX) is pleased to announce that, together with Sumitomo Metal Mining Co., Ltd and Sumitomo Corporation (collectively "Sumitomo"), it is in receipt of anti-trust approval from the Ministry of Commerce of the People's Republic of China, Anti-Monopoly Bureau to form the Sierra Gorda Joint Venture and develop the Sierra Gorda copper-molybdenum project in Chile (see Press Release May 16, 2011). The Joint Venture is expected to close by September 14, 2011 at which time Quadra FNX will own 55% of the Sierra Gorda project, with Sumitomo owning the remaining 45%. As part of the closing, Quadra FNX will receive reimbursement of construction and related costs expended since May 1, 2011.

Paul Blythe, President & CEO comments, "The receipt of anti-trust approval was the last condition required to close the Joint Venture with Sumitomo. With their commitment we have a financing structure in place, as well as all the permits that are required for the project. In the meantime, development has continued in accordance with the schedule outlined in the feasibility study, and site earthworks and construction of support facilities have begun. The mobile equipment will arrive in September with the delivery of the first of the Caterpillar 73 cubic yard shovels. Process and electrical equipment ordering has continued on plan, along with detailed engineering and Build Own Operate contract negotiations, and the project remains on track to commence production in 2014."

About Quadra FNX Mining Ltd. (TSX: QUX)

Quadra FNX Mining Ltd. is a leading mid-tier copper mining company with corporate offices in Vancouver, B.C. and Toronto, Ontario. Quadra FNX produces copper, nickel and precious metals from its operating mines: Robinson in Nevada, Carlota in Arizona, Franke in northern Chile, and McCreedy West, Levack, which includes Morrison, and Podolsky in Sudbury, Ontario. The Company has two key development projects, including the Sierra Gorda copper-molybdenum project in Chile, and the Victoria project, an advanced exploration project in Sudbury. Quadra FNX employs approximately 1,900 people in North and South America.

Forward-Looking Statement

This Press Release contains "forward-looking information" that is based on Quadra FNX's expectations, estimates and projections as of the dates as of which those statements were made. This forward-looking information includes, among other things, statements with respect to the timing of the closing of the Sierra Gorda JV, the development and construction of a mine at the Sierra Gorda project, financing plans for Sierra Gorda, and anticipated timing of production at the Sierra Gorda project. Generally, this forward-looking information can be identified by the use of forward-looking terminology such as "outlook", "anticipate", "project", "target", "believe", "estimate", "expect", "intend", "should", "scheduled", "will", "plan" and similar expressions. Forward-looking information is subject to known and unknown risks, uncertainties and other factors that may cause Quadra FNX's actual results, level of activity, performance or achievements to be materially different from those expressed or implied by such forward-looking information, and developed based on assumptions about such risks, uncertainties and other factors set out herein, including but not limited to:


-- Our ability to successfully bring the Sierra Gorda project into production;-- Fluctuation in prices of plant, equipment and other capital required at the Sierra Gorda project;-- Receipt of all permits required for the Sierra Gorda project;-- The ability of our key contractors to perform the services for us in the manner contracted for;-- The plans currently in place with respect to securing adequate sources of water, power and other infrastructure to the site;-- The availability and cost of key operating supplies and services and in particular shortages of critical supplies such as tires, steel and key items of equipment;-- Delays in construction of the power transmission line;-- The production facilities may not achieve the planned desired recoveries;-- Uncertainties as to the impact on the molybdenum market of the quantity anticipated to be produced;-- Uncertainties as to the availability and price of a long term power supply;-- Fluctuations in metal prices;-- Fluctuations between the Chilean peso and the US dollar;-- Insurance coverage may not be available for certain risks that the company might deem it prudent to insure against;-- The highly competitive labour market in the mining industry in general and Chile specifically may have an adverse effect on the company's ability to attract and retain qualified people;-- Actual capital costs, operating costs and expenditures, production schedules and economic returns from the Company's mining projects;-- Geotechnical issues; specifically pit slope stability;-- The mineralogy and block model assumptions;-- The ongoing litigation and potential future litigation at the Sierra Gorda Project;-- Potential challenges to title to the properties;-- Seismic events at the Chilean sites;-- The dependence on transportation facilities and infrastructure;-- The actual costs of reclamation may vary from original estimates;-- Inherent hazards and risks associated with mining operations;-- Inherent uncertainties associated with mineral exploration;-- The mining industry is competitive;-- Being subject to government regulation, including changes in regulation;-- Being subject to extensive environmental laws and regulations, including change in regulation;-- Need for governmental licenses and permits;-- Derivative contracts and exposure to the credit risk of counter-parties;-- Taxation;-- Political and country risk;-- Fluctuations in foreign currency exchange rates; and-- Global financial conditions.
A discussion of these and other factors that may affect Quadra FNX's actual results, performance, achievements or financial position is contained in the filings by Quadra FNX with the Canadian provincial securities regulatory authorities, including Quadra FNX's Annual Information Form. Forward-looking statements are based on assumptions management believes to be reasonable, including but not limited to the continued operation of Quadra FNX's mining operations, no material adverse change in the market price of commodities, that the mining operations will operate in accordance with Quadra FNX's public statements and achieve its stated production outcomes, and such other assumptions and factors as set out herein. Although Quadra FNX has attempted to identify important factors that could cause actual results to differ materially from those contained in forward-looking statements, there may be other factors that cause results not to be as anticipated, estimated or intended. There can be no assurance that forward-looking statements will prove to be accurate. Accordingly, readers should not place undue reliance on forward-looking statements. Quadra FNX disclaims any intent or obligations to update or revise publicly any forward-looking statements whether as a result of new information, estimates or options, future events or results or otherwise, unless required to do so by law.


Contacts:
Media and Investor Relations Contact:
Derek White
Executive Vice President, Corporate Development
(604)-699-3063

Nawojka Wachowiak
Vice President, Investor Relations
(416) 985-8317